It's impossible to put your finger on the exact moment that the Kia brand started to get noticed, but we would wager that it was around the time that the Soul hit the market in 9 years ago.
It's a great looking vehicle that is not that expensive to get into, which begs the question of the cost of a fully loaded Kia Soul.
2018 Kia Soul Exclaim specs
The Exclaim trim sits at the top of the Kia Soul range and now comes with a 201-horsepower turbo engine that puts some real pep into the stride of this beautiful boxy car.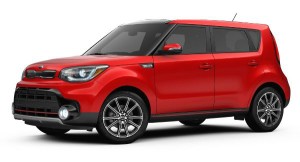 That, as well as some of the other new features, has made the Soul Exclaim a must have for many Kia fans.
While you get more power, roughly 40-hp, with this engine than you get with other Soul engines, you still get a city/highway combined 28 mpg.
That number is a touch better than the 2.0-liter engine on the Soul Plus and the 1.6-liter engine found in the base model.
The Exclaim deliver power, fuel efficiency, and also performance, thanks in large part to the engine being mated to a new 7-speed DCT.
This unit delivers smoother shifts, which in turn makes for smoother acceleration, and a much better driving experience.
There is even more to discuss before we get to the cost of the Soul Exclaim, and we would be remiss if we didn't mention some of the sportier features that it boasts.
These include things like chrome grille surround, red-accented body trim, exclusive 18-inch wheels, and a Soul tailgate badge. You also get a dual chrome twin-tip exhaust, which is a first for the Soul.
Pricing of a fully-loaded Kia Soul Exclaim
The 2018 Kia Soul is available in three trim levels:
Base with 6-speed manual or automatic transmission
Plus with the 6-speed automatic
Exclaim turbo with the new 7-speed DCT
The entry-level Base starts at $16,100, while the mid range Plus trim level starts at $20,300. The range-topping Soul Exclaim costs $22,800.
Kia Soul Exclaim Sunroof & Technology package
The top of the line Kia Soul comes available with a wide number of premium features, but two additional packages (optional) provide even more bells and whistles.
The Soul Panoramic Sunroof Package (costs $1000) adds large panorama sunroof with power sunshade.
The Soul Technology Package costs $3000 and adds Navigation with 8″ display, Harman Kardon Audio with center speaker, subwoofer and amplifier, Speaker lights, 10-way power driver's seat including lumbar support, 8-way power passenger seat, Blind Spot Detection System etc.
Conclusion
Given what you get with this vehicle, it's more than a little surprising to see that you can get a top of the range 2018 Kia Soul for $22,800.
This really is an amazingly low price for a vehicle that delivers looks, a ton of outstanding features, and a level of drivability that has to be considered among the best in the segment.