You have already seen numerous photos and reports from the Paris auto show, but you never get enough of Kia, do you?
Well, the 18-day auto show is still going on and is very much alive. Therefore the Kia-World blog will continue posting interesting Kia car news reports from the event.
Here is our latest one, coming from the "Soul zone". This time, it's not a video report, but a simple image review of all different colors of Kia Souls (models being displayed at the event).
As you already know, Kia has put seven different Soul models on display.
All Souls being displayed there are the top-of-the-range models and feature some very unique exterior and interior accessories.
They also highlight a wide variety of styles, which customers will be able to buy once the model hits their local Kia stores.
1. Kia Soul Exterior Color: Vanilla Shake: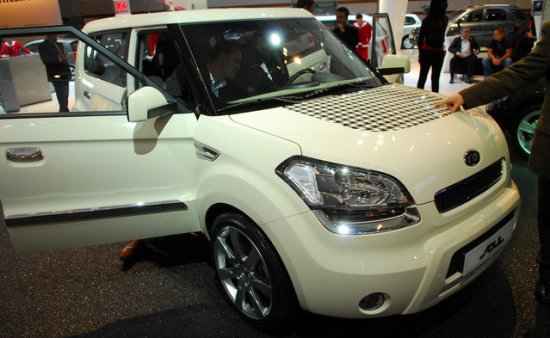 Let's take a look at the very-first among seven exhibited Soul models. This is the "Vanilla Shake" Kia Soul, equipped with four speed automatic transmission.
This particular model features 7-spoke, 18-inch chrome alloys from MS Design, chrome door handles and chrome grille in front, as well as side moulding and bumper moulding at rear.
It also has a Piano Black headlamp styling accents, body colour front and rear bumpers, and Hounds Tooth check pattern on the bonnet. Inside, the Beige Special interior features Hounds Tooth check pattern seat trim.
2. Black Burner style Soul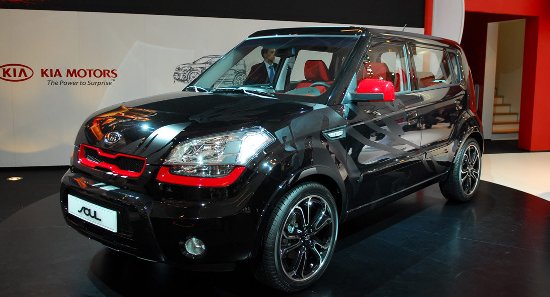 Do you still remember Kia presenting the Soul Burner concept as a "bad boy" among all three Geneva show cars?
At that time, the Soul Burner was a concept car, while several months later, you can see it in production-ready form. Here it is, the streets ready "bad boy" Kia Soul!
It looks awesome and screams attention.
The Soul Burner wears 18-inch "Burner" accessory alloy wheels (also known as Flower wheels), European body kit, red mirror housings and headlamp styling accents, and "Dragon Tattoo" graphics.
3. Tomato Red Kia Soul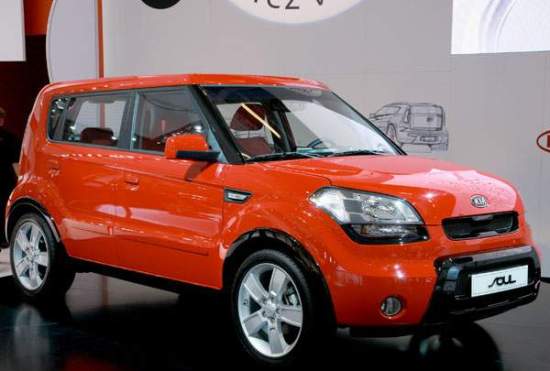 No fancy decals or unique accessories can be found on this Soul model. This one comes equipped with European body kit, high-gloss Piano Black front and rear bumpers and headlamp styling accents, red mirror housings, door handles and side moulding.
It also wears regular 18-inch alloy wheels in silver color. The Black/Red interior features the "Street Demon" cabin styling.
4. Black Kia Soul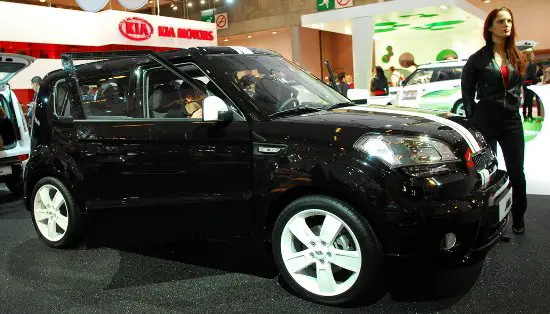 The Black Soul model hosts a white stripe graphics at the bonnet, roof and possibly the tailgate (we can't see the rear hatch from this angle).
It also comes equipped with white-painted, 18-inch accessory alloy wheels and white mirror housings.
An important part of its accessory pack is also a "Korean" body kit attached to the front and rear bumpers.
If we had to pick our favourite Soul out of seven models presented in Paris, we would choose this one!
Which one is yours favourite, btw?
5. Clear White Soul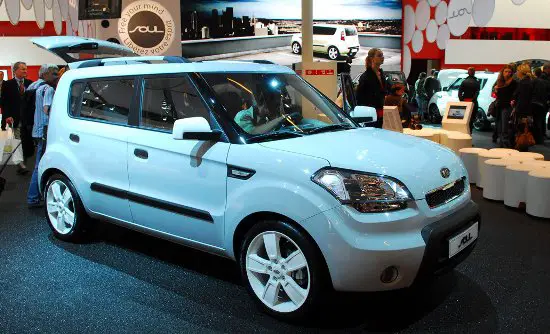 There's also a Clear White Kia Soul with high-gloss Piano Black front and rear bumpers and "styling accents" below the headlamps. It also has a chrome front H-grille and body colour mirror housings, door handles and side moulding.
6. Java Brown Soul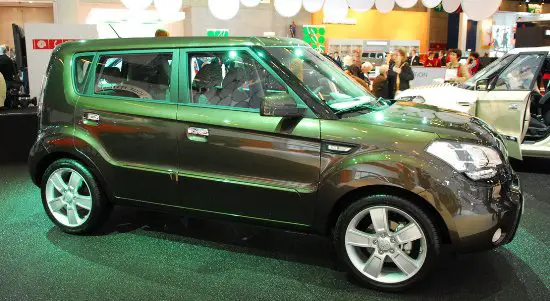 This particular Soul model features 18-inch alloy wheels, high-gloss Piano Black front and rear bumpers, chrome signature grille, door handles and rear bumper moulding.
7. Blue Stone Soul
There's also a Blue Stone Kia Soul displayed at the auto show in Paris, however, we couldn't get a high-quality image of it.
According to Kia, the Blue Stone Kia Soul features matte black front and rear bumpers, door handles and side moulding, chrome front grille and white mirror housings.
Note: The pictures posted here at theKEEA.com were taken by our friends at Omniauto.it, an Italian online auto magazine which provides latest automobile news and information on new cars.