List of Kia Soul mods + owner interview.
The latest installment in our Kia owner interview series takes us to Orlando, Florida, where Barry takes to the road in his Inferno red 2015 Kia Soul.
This represents a bit of a change of pace for Barry, as this is the first Korean car that he has owned.
He has driven many different cars over the years, but was eventually drawn to Kia when he saw the advances that they were making in their vehicle designs.
He has owned the 2015 Soul Plus for 4 months now, and is absolutely delighted with his purchase.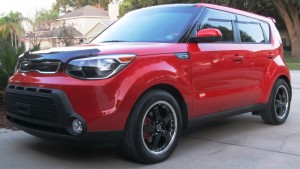 Barry shared a story with us about the incredible level of customer service he has received when dealing with Kia.
There was a mix-up with the mats that he wanted for his car. When it was discovered the mats he ordered would not fit, he contacted Kia and got a fast response, and an offer of reimbursement for the mats he has ordered.
As far as the car itself goes, Barry was drawn to the design, but also to the gas mileage that it offered.
His initial idea was to purchase a Kia Rio, but once he checked out the new Kia Soul, he knew that was the car he wanted.
He loved the space inside for passengers and cargo, and was also drawn to the seemingly countless customization possibilities that exist, despite the fact that the vehicles was already pretty loaded as is.
He has made a couple of small changes so far, but is thinking of going with a few more in the future.
Read on to hear about his future plans and his experience so far with his red-painted 2015 Kia Soul Plus.
2015 Kia Soul Plus Specs
Eengine: 2.0L 4-cylinder GDI
Color: Inferno Red
Trim: Plus (+)
Model year: 2015
Tire size: 215/55R17
Average mileage per year: 9K estimated
Miles driven so far: 2600
Soul Owner Q&A
1.Tell us something about your Kia Soul ownership experience so far?
I am impressed with Kia and their devotion to customers from my local dealership to Kia's customer support. Here is one example.
I was going to purchase Kia all-weather floor mats and went to the Kia accessory website page for the 2015 Soul.
The mats I selected were pictured but I knew would fit only the 2010 – 2013 model not the 2015.
I informed Kia of this and to my surprise received an immediate response via email.
Kia customer support thanked me for letting them know of this mistake and even offered to reimburse me for a set of all-weather floor mats that would fit my vehicle after I purchased them from my local dealer. Now that is good customer service!
2. How long have you owned your Soul Base?
My 2015 Soul was purchased in November 2014 and it is now February 2015 so it has been nearly four months.
It had just been delivered to my dealer and had been on their new car lot for one day. I'm glad I got it before someone else did!
3. Honestly, what was your intention when you bought your 2015 Kia Soul?
Previously I had owned a 2006 Honda Ridgeline that was getting horrible gas mileage and had various problems including sun roof motor failure, excessive engine vibration, air conditioning compressor and refrigerant leaks, etc…
I wanted a new vehicle that would be economical to own, require little maintenance and had a great warranty. I had in mind a new Kia Rio but once I tried the Soul it was all over!
4. What do you like the most about Your Kia Soul?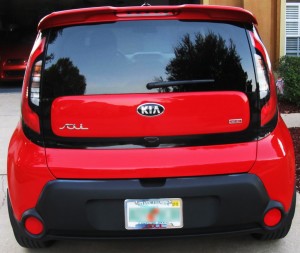 I like the additional space and cargo capacity. I have a child and wife and my vehicle is the designated 'road trip' car when we go on trips.
It holds a lot of stuff even without the rear seats folded down. I also love the dash and interior look. It seems like I am driving a much more expensive vehicle.
Did I mention I love the quiet engine and fantastic handling?
5. What do other people say about your car?
I hear 'cool Soul' a lot and 'I like your car' too. People frequently ask to look inside it.
6. What is it that makes your ride look unique?
I love the look of the 2015 Soul overall so there isn't much to customize.
I added a rear aero wing to finish off the rear end, an official GDI silver badge for my tailgate (If it's good enough for the Optima it's good enough for the Soul!), and to complete the look I changed the OEM Kia factory 17" Plus wheels to 17' Drag DR-11s keeping the stock OEM Kuhmo tires and my TPMS sensors.
My wheels are gloss black spokes with a chrome lip, keeping the black, red and silver theme intact.
In the future I plan to add an SSR light bar and rally style lighting, SSR engine bay suspension brace and a chrome tailpipe extension.
Not much else other than that although I would love to add a set of projector HID headlamps and OEM side marker light mirrors if I can get my hands on some!
7. What Kia Soul accessories have you installed so far / do you have any future plans?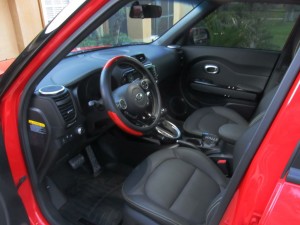 I installed a set of WeatherTech floor liners to protect my new carpeting, I have the Kia black hood protector and side window vents installed.
I would love to install the Kia foot well mood lighting and puddle lights kit. That would be cool.
I also have the Kia all weather cargo tray and cargo net in the rear.
Editors: Great interview Barry! Thanks for sharing your thoughts with all of us, Kia fans! Enjoy your 2015 Kia ride!!