There have been a ton of people waiting for the arrival of the new Kia Soul, and as luck would have it, we were fortunate enough to be able to talk to one of the first recipients of the trendy small crossover vehicle.
We felt that Robert was the perfect person to talk to, as he just traded in his 2013 Soul to get his hands on the new 2014 model!
One of the first things he mentioned about the new Soul is the additional space. He loves the fact that there is plenty of cargo space for all his gear, yet the car is still compact enough to fit into even the tightest of spaces.
He admitted that he received some negative comments about the boxy styling of the Soul, but said that those soon turned to positives when he took the naysayers for a ride.
Robert was so impressed with the 2013 model that he was leasing, he decided to go for ownership of the Kale Green Kia Soul, as he knew this was a car he wanted to ride for years to come.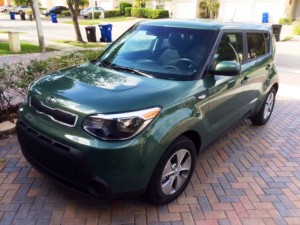 It's only been 10 days of ownership, but so far he is delighted with the decision that he made.
He does plan on making some future modifications to the car, but for now is happy to go with an Apple sticker in the rear window and an iPad up front.
The new Kia Soul has very much lived up to all his expectations, with the 'thunk' of the door closing when he climbs behind the wheel being something of a guilty pleasure.
1. Tell us something about your Soul ownership experience so far!
My Kia Soul ownership has been a great experience. I love the handling and feel of the new Soul – it is big enough to carry the equipment that I use for work, yet small enough to zip around town easily in (and find a parking spot no matter what!)
2. What do other people say about your new Kia Soul?
The Soul can be a very polarizing design – it is not a cookie cutter box, and people usually really love the look or loathe it.
However, even those who don't like the Soul's look are generally won over once they ride in it. The interior design is fantastic, and well thought out.
Plus, the car is roomy as can be. I have tall friends, and they don't mind sitting in the backseat.
3. How long have you owned your new car?
I've owned my Kia Soul for 10 days now – though it replaced a 2013 that I had leased for the past ten months.
4. Honestly, what was your intention when you bought your Kia?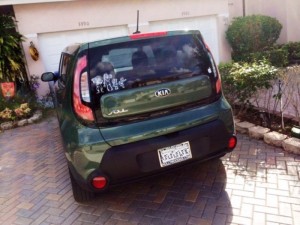 I bought the 2014 Soul with the intention of replacing my 2013 model I was leasing.
I loved the car so much, I decided I wanted to own it and drive it around for the next five or six years rather than just lease for a few. I drive around a lot for work, and I'm happy to do so in my Soul!
5. What do you like the most about your ride?
It may sound funny, but what I like most about the Soul is the satisfying 'thunk' the doors make when they close.
I've owned some much more expensive vehicles that felt far less substantial when closing the doors. The Soul just feels like a solid machine.
6. What is it that makes your car look unique?
My ride is still fairly stock, but of course the moment I got it home I put on an Apple computer sticker on the back window.
That's a pretty special club – us dire hard Apple fans – and I just love when I see the same sticker on other Souls on the road.
7. Do you plan to install any aftermarket parts and accessories in the future?
I have no special accessories or mods just yet – but I'm planning on installing an iPad mini in the dashboard.
Kia Soul Kale Green Specs & Details
Engine: 1,6L GDI 4-cylinder
Exterior color: Kia Soul Kale Green
Trim: Base plus automatic
Model Year: 2014
Alloys & Wheels: stock wheels (16″)
Average MPG: averaging 27 mpg
Miles: 500 miles so far