I've had my 2010 Kia Soul for over a month now and I thought I'd share my experiences with the prospective/future buyers in hopes of answering most of the questions and easing some of the doubts they might have.
All the "professional" reviews about the 2010 Kia Soul that I was able to find before I bought my car were strangely similar – it seemed like everyone copied everyone else's opinions and it was quite obvious none of the "experts" had actually driven the car for long, save for an occasional test run at a media-staged event.
It's fairly obvious that only a few reviews available to this day were written by people who have honestly spent some time with the first generation Kia boxy car and did not "recycle" what seem to be some "standard" views and opinions.
This is a personal review and it's just that I'm not a journalist or an automotive expert; just a real user with average keyboarding skills and some extra time to be used for the good of humanity.
Time and space is limited, so enjoy it for what it is…
Review of the 2010 Kia Soul 4U starts now
Exterior: this thing is surprisingly cool!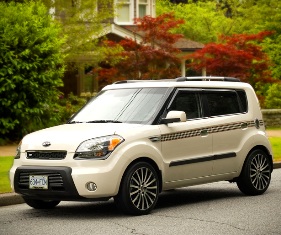 After I saw the Soul commercial on TV (yes, the one with the hamsters) I thought "what a cool looking little car"!
Every time I travel to Europe I cannot help to think that here in North America we constantly get a short end of the stick.
The automotive variety found on the streets of Berlin, Paris or Rome is OVERWHELMING!
So many great looking cars. And they are all different! All shapes and sizes, fun-filled, brilliant designs, vibrant colors…Seems that all we get here are black trucks, silver SUVs as well as gray Civics or Corolla's.
Sometimes you see some recycled/re-badged leftover from a few years back they decided to bring over here in hopes of prolonging outdated model's agony- some stale Suzuki/Chevrolet creations come to mind here. And then there is a Smart Car – the biggest automotive ripoff on earth… oh well.

Kia Soul was exactly what I was hoping to see here. Yes, finally we got a great, modern, funky looking car on our hands.
And it was available now, not in some distant future. My Mazda3 hatch needed a new owner and my Plymouth Voyager was long ready to go, so to the nearest Kia dealer I went, hoping to fall in love with the Soul as soon as I meet it in person.
And love at first sight it was! I honestly thought the car looked awesome in real life. And so much bigger than what I expected. Short test drive followed and the second one a few days later, once my excitement cooled off. I always do this. Just in case.
I was sold. I fell in love with a Dune/Vanilla color and two-tone charcoal/cream interior with hounds tooth accents.
I loved everything about it, but if I had to describe it with just one word, I would have to exclaim that finally I was buying a car that was DIFFERENT!
Different than all I owned before and different than everything else on the road.
This thing is surprisingly stylish!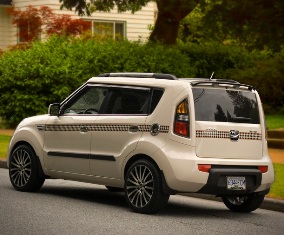 The shape is boxy, but not square. It is tall, but proportionate. It squats wide, with the wheels pushed far away into the corners. And those are some wheels, aren't they?
Eighteen inches of silver alloy goodness! Blingy? I think not. Handsome? Definitely! I
l ove the front light clusters, the gloss black A-pillars, the subtle fog lights inside the huge front bumper with two grilles, the taillights flanking the hatch with its little hump in the middle…
To me, Kia Soul looks like a cross between a mini Land Rover and an over-sized Mini – if that makes sense to you. But the blend seems natural and the execution is flawless.
The body lines are simple, but beautiful, understated but unique, bold but proportional. There is just enough glass, metal and plastic there to create a harmony and equilibrium.
Everything seems to be in tune, nothing is without purpose. Maximum style with just as much function. How brilliant is that?
This car was designed by some skilled people, and it shows! Some will hate it, some will love it. But the same can be said about music, art, film, wine or gourmet food. As long as they have PERSONALITY. Bland, tasteless crap is accepted by the majority.
The 2010 Kia Soul is nor bland or tasteless and it's definitely not crappy – finally a car that makes a statement at a price I can afford! In my town the only cars that turn heads are Ferraris and Lambos. And my Soul. I kid you not.
2. Interior: this thing is surprisingly roomy!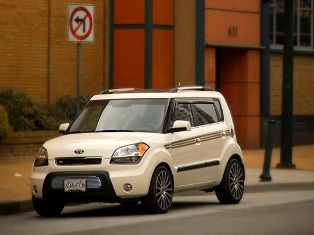 All the reviews I read about the Soul call is a "subcompact" or a "super-mini" depending on location. I have no idea why. Perhaps this is why all critics agree Soul is so difficult to classify. As small as the actual external dimensions may be (and it's not really that big at all), this vehicle is huge on the inside.
Five adults will fit with ease. The front seats are firm, but very comfortable, the rear seats are just as good. The sitting position is upright with excellent thigh and back support. Driver's seat adjusts in all axis and it's impossible not to find a perfect position no mater how big or small you are.
My Kia Soul crossover vehicle is shared by two drivers on opposite ends of a spectrum – I'm 6'3′ and my wife is over a foot smaller and we both fit perfectly with absolutely no issues. Our three teenage kids travel with us on occasion and they fit in the back with ease and comfort. No complains there – I wish it was like that all the time!
The cargo space is big enough to fit weekly groceries with the rear seats up and sufficient for a camping trip or a small move with the seats down. The handy parcel compartment under the cargo floor fits all the things you "must" have in your trunk – like rubber boots, jumper cables, an umbrella, a jug of the washer fluid, a small dog…
There are lots of storage cubbies scattered around the car and the glovebox is huge. there is also a brilliant handy flip-up storage "pocket" on top of the dash that fits my 4.3″ GPS unit like it was meant for it. Perhaps it was?
The US-spec Kia Soul models have a center console storage with a lid that doubles as an armrest, Canadian models have an open storage there and the armrest is attached to the driver's seat back. Works both ways, I guess – I have no idea why they made it different though…
There is one thing that I have to stress – even when equipped with the sunroof, Soul has PLENTY of headroom. And to summarize, there is REALLY plenty of hip room, shoulder room, leg room and any room you may ever need. I don't know how they did it, but the car is cavernous. You can get lost in here. Or get your heart lost in here, like I did!
"This Thing Is Surprisingly Stylish!"… wait, did I say that before? Oh well, I will say it again!
I love the "retro" interior. Actually, the only thing that is retro about it is the most awesome hounds tooth upholstery on the upper part of the seats. It reminds me of some very chic fashion statements from the seventies – British spy movies come to mind for some reason and I think I had an original Mini some decades back that had the same upholstery pattern in it. Why do I keep comparing this car to a Mini… it is really nothing like it. Oh well, back to the interior.
Kia Soul comes equipped with all the usual appointments – power everything, tilt/slide sunroof, tinted windows, heated mirrors, adjustable active headrests, heated seats… wait, are those really usual? On the subcompact econobox? You tell me!
My model had a two-tone charcoal and beige interior. It's a great looking beige. Not Ford Tempo beige. It matches the creme anglaise exterior perfectly and it looks rich and subtle. It isn't really rich nor subtle, but it's really good at pretending it is.
The "professional" reviews complained about the sea of hard plastic inside this car. The basic black model does seem a bit monotone in it's use of color, pattern and texture, but my car is far from it. It looks fresh and modern and although it's obviously on a frugal side it doesn't come across as cheap or brittle.
The price vs. quality equilibrium is definitely there and the scales are tipping towards the latter IMO. While you can clearly tell that someone was trying hard to save on cost and weight alike, they pulled it off with grace.
There are two gripes that I have with it: the upper door panels under the windows is one of them. I roll the glass down and put my elbow there all the time and if my shirt or jacket has metal buttons or zippers at the cuffs, the plastic would scratch easily.
The second one is, or rather was the rear visibility. It's limited due to the chunky D-pillars (i think that's what they're called?). It's hard to see what's behind your bumper and you have to pay close attention and use any psychic abilities you may possess.
If you don't have any, move to Europe where Kia Souls come with a rear-view camera or install the backup sensor system, like I did. Works brilliantly and takes care of the issue!
There, a brutally honest opinion so you know I'm not paid for this by Kia marketing department.
"This Thing Sounds Surprisingly Awesome!"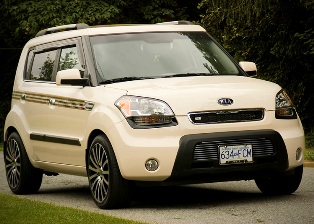 The stereo that is. I'll talk about the motor a bit later. My car came equipped with the upgraded 8-speaker 315 Watts stereo system featuring a subwoofer, an in-dash centre channel, an external amplifier, LED lit front speakers, Ipod integration, redundant steering wheel controls, hands-free Bluetooth mobile phone connectivity , speed sensitive volume control and quite possibly more features that I can't remember right now.
There, this was quite a mouthful, wasn't it? But wait, it's not all! The stereo also has Sirius satellite radio with 3 months prepaid subscription, USB port, it plays MP3s (and CDs) and is supposedly made by Harman Kardon International under the Infinity brand.It sounds like a million bucks and it's easy to program, adjust and use. Controls are logically and ergonomically designed and placed.
You can make mobile phone calls hands-free using the built-in microphone and speakers and all the commands are done utilizing the built-in voice-recognition system. Hardly retro, isn't it?This was all a big selling point for me. I know it's not saying much, but this is by far the best stereo any of my cars were equipped with, bar none!
My kids love how their Ipods sound through this radio and my old-school media (who still uses CDs?) sound better than ever too. I love the USB port – it almost makes Ipod compatibility redundant – I keep all my downloaded music on a small flash memory drive that I leave plugged in there all the time.
I have never had any issues with this setup whatsoever, despite some reports of USB drives dying that I found on the net. I've had nothing but positive experiences with this audio/communications setup and my teenage children share the same opinion about it – Soul rocks!
3. Motor, transmission, etc
"This Thing Is Surprisingly Swift And Agile"
Here it comes – my take on the motor and transmission combo. My Kia car is equipped with a 2.0L engine and a four speed (oh my gawd, no way, really?!) transmission.
Some said it was old design. Some said it was adequate. Others said the performance was "pedestrian at best". Others yet dismissed the 4-speed AT as a relic of the past asking , no, wait – demanding an extra gear… See, I don't think these people actually drove the car for any significant amount of time.
Not enough to know better than that. Or to have discovered little details like the O/D off button on the shifter.
Let me tell you this: I traded my Mazda 3 GT with an intake, catback exhaust and other mods for my Kia Soul. The car was equipped with a 2.5L motor, a 5-speed manual , more horsepower, more torque and is generally acclaimed for its prowess and agility.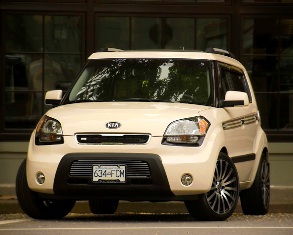 I have absolutely no regrets! None whatsoever! The Soul is full of surprises and this is one of them. I don't know how they did it, but the motor/gearbox combo in my Soul is brilliant.
Torquey, peppy, swift, agile, smooth, throaty, sporty… you can call it many names, but never adequate or pedestrian. WTF were those people smoking? Wait, perhaps they forgot the handbrake was on???
I have absolutely no complaints about this car's performance. The handling is exceptional, the acceleration is great, the behavior at any speed is perfect making both urban commuting and freeway travel pleasurable. The transmission is smooth and never hunts for gears. The O/D off button does wonders for city driving and overtaking while at freeway speeds. At 110 km/h tachometer hovers around 2500rpm… so why do we need another gear?
The motor actually sounds very nice and it looks to me like it was once designed and built by Mazda, short of an engine cover that will be sorely missed if you're into under-the-hood porn. But for the rest of us, who cares?
It is so easy to access everything in there and seems like working on this motor would be a cinch too. You could fit another engine under the bonnet, easily! Apparently is is an old, proven iron-block powerplant and guess what – it works like a charm! And if it helps to keep the cost down and reliability up – why not?… I think it's a brilliant idea.
Some reviewers complained about "harsh" and "bumpy" ride. It is firm, true. But never uncontrolled or choppy. The wheels never part from the pavement. If you push it too hard, the stability control/ traction control system will tame your efforts. And those 45 series tires will keep you planted.
Do you need to stop in a hurry? The car stops on a dime. Those big tires with fat rubber definitely help and all around disks with ABS work awesome. The car feels safe and has a great presence on the road. I never feel intimidated by larger vehicles.
Driving at night is a pleasure assisted by extraordinarily bright and perfectly aimed headlights. The instrument cluster is nicely backlit by LEDs and everything is where you expect it. It's elegant and simple, and it's a Good Thing TM. Don't forget – we're talking about a subcompact economy car here. I told you this box was full of surprises!
Is it all perfect? No, it is not. I drive my Kia Soul in the city. All short trips, lots of uphill runs, stop and go traffic with plenty of unsynchronised traffic lights. So there is no surprise the fuel economy suffers.
No miracles here – I cannot seem to reach the official estimates and frankly, no matter how I drive the car doesn't seem to matter. Hypermiling concepts are really hard to implement where I drive, but I will invest in a Scangauge shortly and will start to monitor real-time fuel economy closely while trying to improve my driving habits.
Definitely not a fly in the ointment, but my experiences are not great . Still, your results my vary and to be honest, all my previous cars suffered the exact same fate – I guess living and driving in Vancouver does it to your fuel economy. I don't think it's my Souls fault, really. If anything it's my body. Perhaps I should try and lose a few pounds and then see what happens….
"This Thing Is Surprisingly Well Put Together"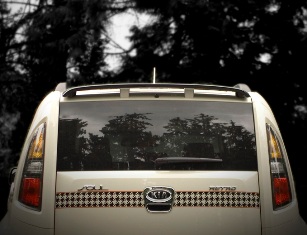 One month later, and there are no squeaks or rattles. Tight gaps everywhere, excellent quality fasteners, plastic parts and panels are cleverly designed and flawless, metal body parts are void of rough, unfinished edges and are perfectly lined up.
Look under the hood, open the hatch, feel the inside of the fenders – fit and finish is great.
As I was installing some aftermarket add-ons on my Kia Soul I have seen some very good signs of clever, efficient design and use of excellent quality parts. I can hoestly say that this car is assembled with better care and attention to detail than my Mazda3 that was manufactured in Hiroshima and is one of the last vehicles sold on this continent that are still made in Japan.
Most of the car is in the same quality range, while some components are visibly nicer. Nothing cheap or unrefined about this one. I think Samsung and LG led the way, and other Korean manufacturers are following suit. Kia is learning fast and once again the student has just surpassed his Master.
4. Final thoughts about my Kia Soul boxy car

Once you sit inside the Soul it feels surprisingly familiar. There is nothing awkward about it, it all falls into place . Everything is within reach and you feel like you've known each other forever.
Driving a Soul makes you feel smart. Others look at you, ask you questions, stop to stare. Old and young alike seem to share the fascination with its unusual shape and unsurpassed practicality.You feel like you know something they don't. You feel special. This really is a great feeling.
Thank you KIA for bringing Soul to the world!
Special thanks to "Vinylengraver" and his review of Kia Soul 4U Retro. We wish you best of luck with your new ride!