Kia Soul crossover has been one of the first non premium vehicles on the market to offer a safety back up camera!
The back up camera has been offered already in the first generation Soul crossover and is also available now when consumers can buy the second-generation Kia Soul model.
The hot-looking Soul crossover continues to be one of the hottest-selling vehicles in the USA with sales of more than 100,000 units per year.
The current 2016 Soul MSRP start at around $14,500, while the top-ranging model costs slightly more than $20,000.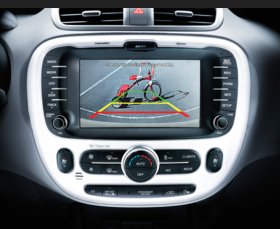 Even with the inexpensive price tag, those buying the 2016 Soul will probably be pleasantly surprised with all the features that the funky Kia model offers.
Starting with safety features,  the vehicle comes available with front driver  and passenger airbags, side airbags and curtain airbags (protecting heads and necks of those seating in front of the car, as well as those seating at back), ABS, ESP, etc…
As we mentioned, Kia Soul back up camera is available, but you can also get a wide number of other premium features including a large panormaic sunroof, speakers with adjustable lighting, navigation system, push-button start, an LCD color display, LED interior lighting, a 10-way adjustable driver's seat with lumbar support, heated front and rear seats and many others.
There's a lot to like about the new Kia Soul, so make sure to check our latest blog posts about Kia Soul.