We have a big exclusive here, and it comes in the form of leaked documents that share details of the upcoming 2017 Kia Soul.
We already know that a facelift is on the way for this model, and we have seen some very early spy pictures.
The styling of the car will essentially remain the same, but we can expect changes to the trim levels, color options, and powertrain technology.
Let's take a closer look at the Canadian-market 2017 Kia Soul changes: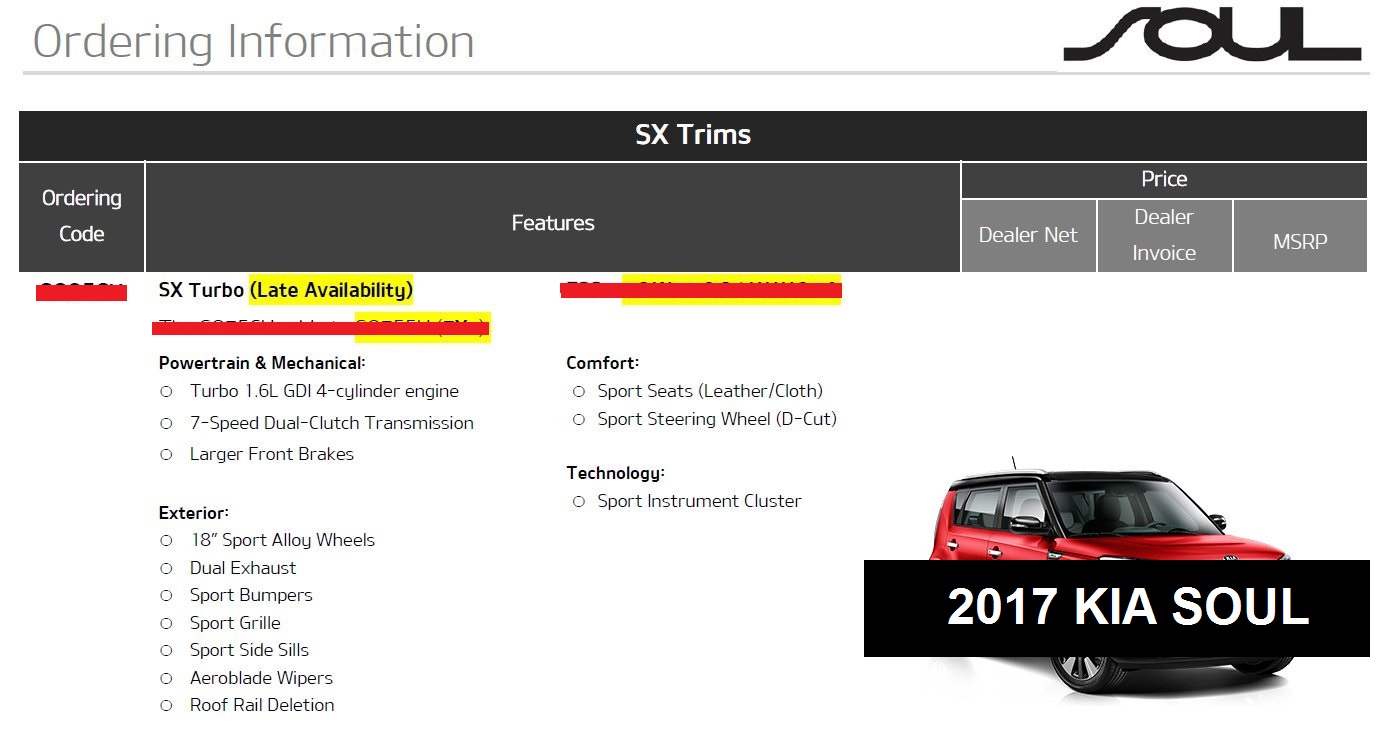 Turbo engine, DCT: Longtime fans of the Soul will be delighted to heat that a turbo engine is going to be introduced.
That will be the same 1.6-liter 4-cylinder turbo found on the top spec Kia Forte 5 models. No official word on the power output, although the Forte 5 cranks out 201-hp.
This turbo engine will undergo a first in that it will be mated to Kia's 7-speed DCT. This higher level of performance will mean the addition of larger front brakes.
New colors: There are some new exterior colors to talk about, too, including an orange exterior color that we think looks really cool.
New brown and blue colors will replace the existing ones, while the ever popular Solar Yellow, Inferno Red, Alien Green, and a few others will stick around for 2017.
Accessories: The aforementioned engine is sure to give the Kia Soul a sportier ride, but it will also be getting some new accessories that will help punctuate that sporty style.
Some of the features that are sure to really pop include dual exhaust, sport bumpers, 18-inch sports alloy wheels, sport side sills, and a sports grille.
These should be more than enough to create a whole new look for the Soul without taking away from its iconic design.
There is even more, though, as the sportier Soul will also have other available items, such as D-shaped steering wheel, leather/cloth combo sports seats, and a flashy new instrument cluster.
This is sure to be big news for those of you who are looking for a Soul that is devoted to driving performance.
All of the features listed here are for the Canadian spec model of the 2017 Soul, which is expected to hit the market in December. We expect that the US model will get all the same goodies.