The all-electric 2017 Soul EV has yet to be officially announced by Kia, but head on over to the US version of their site and you will see it showcased there.
The all electric Soul crossover has an official page complete with pictures and specifications, not to mention color options and the all-important pricing of the new model.
After a little bit of research, we discovered that the same powertrain as before will be in place, which will mean that this model will come equipped with a 27 kWh battery that allows for a 93-mile range on a full charge.
The same electric motor is also in place, delivering 109-hp and a maximum torque output of 285 Nm.
2017 Soul EV – what's changed?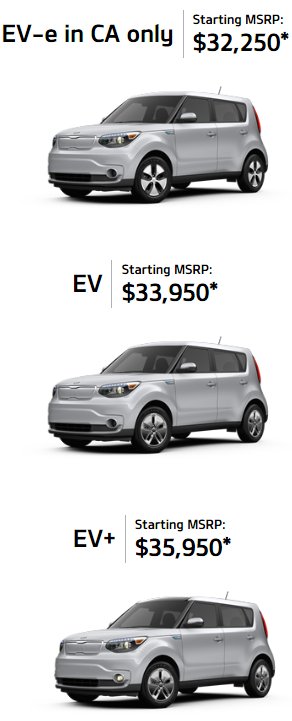 Starting with the base model of the Soul EV, you will find a new center armrest, as well as a 5-inch color screen that features rear camera display, and a new audio head unit.
The higher trim levels have new dark gray 16-inch wheels, and Cloud White added to the exterior color options.
Charging has been improved, with the fast charge delivering more energy in a shorter time.
It also helps that owners can set the charge times so that the car will be ready to go whenever it is most convenient.
Also included is the second-generation Pedestrian Warning System, which alters the sound and frequency levels based on the speed of the car.
Kia Soul electric car trim levels
The 2017 Kia Soul EV will come with 3 different trim levels. Let's take a quick look at each, including the pricing.
2017 Kia EV-e price
The EV-e serves as the base model, and comes with a starting price of just $32,250, the lowest priced of the three.
The only downside with this model is that you need to be a California resident to get your hands on it, as that is the only state it will be available in.
Soul EV price
The middle trim level is known simply as the EV, and it starts at $33,950.
As you might imagine, it comes with several features not found on the base model, including LED positioning headlights, Integrated LED turn signals, 16-inch allow wheels in dark gray with satin metal spokes, heated front seats, and an 8-inch touchscreen with the UVO infotainment system.
Range-topping Soul EV+
The EV+ is he top of the range trim, and it starts at $35,950.
You have 7 different exterior colors to choose from, a pair of which are of the two-tone variety.
If you want a panoramic sunroof as an option, this will be the only model you will get it with.
It features the same 16-inch alloy wheels seen on the middle trim level, and it also adds leather seats on the inside, which can be heated or cooled.
Read latest Kia news at www.thekeea.com…