There has been a lot of talk about an electric version of the Kia Soul being released this year, and now the car has been seen as it is put through the testing phase.
The second generation Soul hit the marketplace last fall, and while it has been incredibly well received, the talk has really all been about the upcoming electric version.
The new vehicle has now been caught on camera, although we will all have to wait a few months more to get a look at the finished model.
The photographs you see were taken in Sweden, with the front fascia and rear end of the car covered up by camouflage.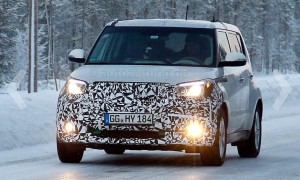 The prototype has an update front bumper to improve aerodynamics, whilst also sporting slightly tweaked taillights. As you would expect from an electric car, there is no exhaust system.
Kia has revealed that the 2015 Soul EV will come with a high-capacity 27 kWh lithium-ion polymer battery pack.
A single charge should be enough to take the Soul a distance of slightly more than 120 miles. In order to extend the range, the Soul will recharge the battery somewhat when the car is coasting and braking.
No official price has been set as of yet, but the rumor is that it will come in at the 22,000 Euro mark when it is finally made available. Other details will be revealed as the official release date gets closer.
Find more spy shots of the upcoming 2015 Soul EV here.
Related Kia News
Automobile spies have also caught a heavily-camouflaged Sorento crossover. The next-generation 2016 Sorento has been spied testing in South Korea. Follow the link to see the images.