The versatility of the new Kia Soul car means that you will want to take it on drives to all kinds of different places.
In order to do that, though, you need to be properly protected in case something should go amiss.
Monthly insurance payments are never fun, but they are absolutely essential if you want to protect the investment you just made in your funky new Soul crossover vehicle.
Chances are you are already making monthly payments on your car, so you will want to get the maximum coverage possible at the cheapest price so that your bank balance doesn't take a major hit each month.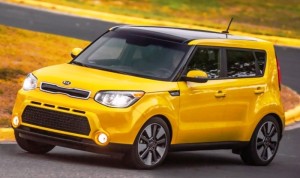 Read on to see how you can potentially save a few bucks on the 2020 Kia Soul insurance, whilst still being well covered.
Lowest Kia Soul auto insurance coverage
The first thing you need to do is completely ignore all of the auto insurance ads you see on TV.
Every single car insurance company tells you they have the best rates, but how can they possibly guarantee that without knowing your unique circumstances?
If you really do want to get the best rate available, you are going to have to do a little comparison shopping first. You can do this quickly and easily by going online.
You don't even have to go to all the individual insurance sites to get quotes, but rather find a site that allows you to enter your information before sending it out to all the companies in their network.
What happens then is that the insurance guys get back to you with a price quote, knowing full well that others will be doing the same. The end result is usually always you saving a few bucks each month.
One way to make sure that your monthly premiums stay at an affordable level is to opt for a higher deductible.
In the event that you need to make a claim, the deductible is the amount that you will need to pay out of pocket. If you are a safe driver and have a clean record, this might be the way to go, as it really does hold the possibility of saving you hundreds of dollars each year.
The sticking point here may be with the bank that financed your 2016 Soul, as they may require you to maintain a certain insurance level.
If you want to be assured of the lowest rate wherever you go, the best way to do that is to maintain a good credit score.
Having a history of paying all your bills on time will help you secure a good rate, as will having a clean driving record for an extended period of time.
This is especially true if you are switching insurance companies, as they will want to know what your previous record looks like before giving you a quote.
If you already have insurance on your home, or you have more than one driver in your house, you can save some money by putting them all together.
A group discount is a cool way to save money on 2020 Kia Soul insurance, and you might just save enough to add some great mods to your ride.