While many of the Kia owners in our series have just recently started their Kia experience, Michael from Richmond, Virginia has been behind the wheel of one Kia or another since 1997.
His devotion to the Kia car brand started with the Sephia, and he was rewarded for his ongoing loyalty when he won a trip to South Korea to meet other owners after entering the "Kia Loyalty Has Its Rewards' essay contest.
That's not to say that Michael hasn't driven any other brands, but he has found that they all have pales in comparison to what Kia has to offer.
The Sephia that Michael owned got him around for 11 years, before finally being brought down by a falling tree during a storm.
That prompted him to move on to the Kia Soul Sport, which is the model he has been driving since then. His wife even joined the Soul club, purchasing the Soul Ghost Special Edition in 2010.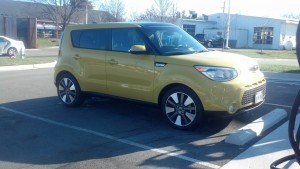 There were few people as excited as Michael and his wife when Kia announced that the second generation Soul would be coming off the production line this year.
It broke his heart a little to say goodbye to his trusty Soul Sport, but the reward was an all-new 2014 Soul, loaded to the gills with the Whole Shabang package and shining like a bar of gold in its glorious Solar Yellow color.
Describe in a few words your Kia Soul ownership experience!
I have owned Kias since I bought a Sephia in 1997 which I drove for over 11 years. After that car was totaled by a falling tree in a storm, I purchased a 2010 Kia Soul Sport in the spring of 2009.
We have been driving Kia Souls ever since. My wife bought a 2010 Soul Ghost Special Edition in 2010, and we bought a 2011 Soul Plus for our son to drive while he was away at college because my wife wanted him to have something safe and reliable.
Nine days ago we said goodbye to my Soul Sport when we traded it in for the 2014 Soul Exclaim with the Whole Shebang package in solar yellow. I had been waiting for that specific car for several months now, so I was very excited to finally have it, and yet I was sad to see the old one go.
What do other people say about your new Solar Yellow painted Kia Soul?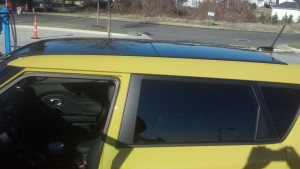 I was approached by another Soul owner as I pulled into a parking lot about my new car this past weekend.
She wanted to know if it was one of the new 2014s and said she had only seen them on the television and not in person yet.
I spent the next 20 minutes showing her all of the nifty features of the fully loaded 2014. She was driving an alien green 2011 Soul Plus, and really wanted to upgrade soon.
Honestly, what was your intention when you bought your Kia?
When we bought the 2014, it had been a very long time since we had a trade of any value.
Living out in the country, we usually put a lot of miles on our cars, so it usually makes more sense to just keep on driving them until they fall apart. We usually put well over 20,000 miles on a vehicle each year.
All of our Kias had been very reliable, so I am confident that the 2014 will last for well over 100,000 miles.
What do you like the most about your new car?
I am a gadget freak, so I just love all of the electronics and stuff in the 2014 Soul.
I haven't had it long enough to pick a favorite, but with the recent cold weather the heated steering wheel and seats are definitely high on my list. I have also been enjoying the Infinity sound system, and the navigation system.
Since it has push button start with a smart key, I really like being able to keep my key in my pocket and simply open the doors and start the car with the push of a button.
My wife adores the almost gimmicky way that the side mirrors swing open as we approach the car as if it is saying hello to us. I am awaiting warmer weather so that I can get to use the panoramic sunroof.
What is it that makes your Kia Soul look unique?
For now, my 2014 Soul is definitely unique in my area. There are no other yellow Souls for hundreds of miles, and most likely none of those have the whole shebang package.
At least for a little while I will be the only one. That bright yellow definitely makes it easy to spot, even in a crowded parking lot.
What aftermarket accessories have you installed so far / do you have any future plans?
I haven't installed any accessories yet, other than what Kia installed as extras when it arrived at the port. They added the cargo tray, cargo net, floor mats, and the cargo cover.
The cargo cover was promised as an extra as far back as 2009, and I am glad they finally got around to making it. I am hoping soon to add the rear spoiler. I am also considering painting the brake calipers in a matching yellow.
Soul Yellow Photo Gallery
Kia Soul Exclaim Specs
Engine: 2,0L GDI 4-cylinder
Color: Solar Yellow color
Trim Level:  Exclaim (!) model with the Whole Shebang Package
Model: 2014 model year
Tire size: 18″ wheels (235/45R18 tires)
MPG so far: mpg has been between 24 and 28 so far. With eco boost turned off it is considerably less.
Mileage: about 750 miles so far