J.D. Power and Associates have released their annual Initial Quality Study (IQS) and a pair of Kia vehicles has come away as leaders in their segment.
The Kia Soul topped the Compact Multi-Purpose Vehicle category, with the Sportage being the top dog in the Sub-Compact CUV segment.
This is the second straight win for the 2013 Soul. The Sportage crossover tied for the top spot in its category.
Kia car quality averall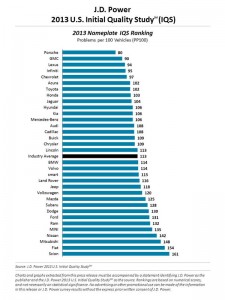 Kia also made history by landing in the top car brands for quality for the first time ever.
The IQS study showed that Kia had made huge strides, outpacing their competitors in the process, which meant a best-ever score for the brand.
More than 80,000 respondents took part in the survey, rating roughly 230 vehicles across 8 different categories.
Those included such things as engine performance, driving experience, and any problems that may have been encountered by the owner.
Kia Soul 

The 2013 model has been given a bit of a revamp in the form of style and technology upgrades that result in an even cooler look and improved efficiency.
New in the current model are power-folding side mirrors, darkened chrome around the signature grille and upgraded leather on the leather-wrapped steering wheel.
Owners with the Eco package can take advantage of the Idle Stop and Go (ISG) technology, which recognizes when the vehicle is stationary and shuts off the engine to save fuel and reduce engine load.
Read more about the fully-redesigned Kia Soul and its ratings in a blog post here.
Kia Sportage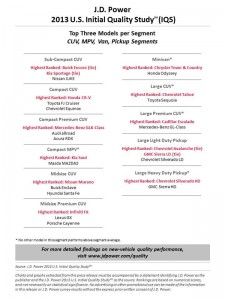 There are a ton of standard features to be found on the base Sportage model, such as 16-inch alloy wheels matched with 215/70R16 low-rolling-resistance silica tires, body-color door handles, body-color and electronically adjustable side mirrors and a six-speed manual transmission.
Opting for the LX model means the addition of upscale, sporty LED accent lighting, standard 17-inch alloy wheels, LED turn signals on the outside mirrors, keyless entry with folding key, and a six-speed automatic transmission.
The powerful SX model comes with a 2.0L turbocharged GDI engine producing 260-horsepower under the hood.
It also has 18-inch alloy wheels, dual exhaust, sculpted side sill moldings and unique SX grille.