Kia Soul Tarmac limited edition model – is it still available in 2019?
The Kia Soul has a style all its own, and that is a look that makes it incredibly special.
You might believe that nothing can be done to make it look even better, but Kia are taking a shot at it with the Soul Tarmac Special Edition model.
There is certainly a lot to love about the Tarmac Kia Soul limited edition, and it all begins with the triple-black color package, and an upgrade in technology.
This special edition Soul model is only available in limited quantities and at limited locations.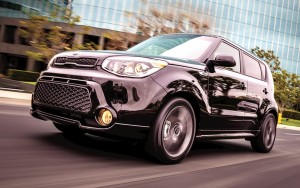 The glossy black finish gives the Kia Soul Tarmac a futuristic, space-age look that is quite stunning.
The main black color of the Soul Tarmac comes with sharp black accents, as well as 18-inch split-spoke wheels in striking dark-graphite.
On the Kia Soul Tarmac interior, the black cloth comes with bright red stitching that adds a sporty touch. Like the eyes of a black panther, projector beam headlights show the road ahead in the dark.
As mentioned earlier, this Kia Soul special edition comes with a stunning array of technology, such as an 8-inch touchscreen, voice command navigation, HD Radio, UVO eServices, and a lot of ways to connect to your favorite mobile device.
Kia Soul Tarmac Q&A
When was the Tarmac (special edition) Kia Soul first launched?
The Soul Tarmac was officially released back in 2016.
Available colors and engine?
Kia Soul Tarmac is all black (the sole color choice on this limited model) and comes available with a 2.0L 4-cylinder engine generating 164 horsepower and 151 lb.-ft. of torque.
What is the cost of Tarmac (special edition) Kia Soul Tarmac package?
The Tarmac is built on the Soul Plus trim, and costs $3100 more than that model. That extra money gets you the following:
Unique dark finish 18-inch alloy wheels
Black accented body kit
Gloss black exterior
Red accented interior
AVN 4.0 navigation/premium audio
Is the Kia Soul Tarmac available in 2020?
The official US Kia website does not offer any information about the 2020 Soul Tarmac edition, which leads us to believe that it is not available anymore.
Not really a big surprise given that only 2000 were made. If you want one, though, we suggest checking the Kia dealer network for available 2020 models.