Congratulations for September "Soul Of The Month" win go to a 17-year old Peter, whose Kia Soul crossover has received the largest number of votes from his "Soul mates".
Posted below is his honorable interview, where he reveals some details about his Soul crossover, ownership experience so far and future plans in regards to the tuning and modifying works.
Q&A (+ pictures)
1. How and when did you find out about the Kia Soul?
I was watching the NBA finals and Kia's hamster commercials caught my attention!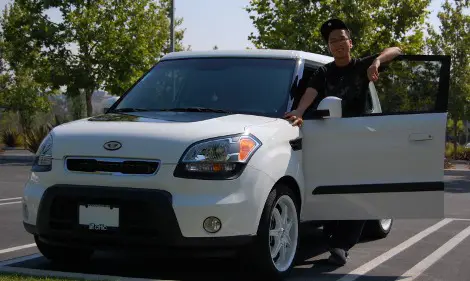 2. How long have you owned your Soul and what are your experiences so far?
I have owned the Soul for a little more than 2 months and I absolutely love everything about it. Both the drive and the looks are great.

3. If you had to pick one thing what was it that really sold you on the Kia Soul?
The one thing that really sold me is probably the combination of nice exterior and the roomy interior.
4. Did you name your Kia Soul?
Yes, I named it Milk Carton thanks to my girlfriend Connie who though of it.

5. Can you tell us some interesting comments that you have heard about your ride from friends, family and other people?
First, my friends ask when they hop on my car is to turn on the LED speaker lights. And everyone of them has so-far said my car is roomy, cute, and better than a Scion.
6. What are your plans as far as modifications? Are you interested in that at all?
My plan is to get some front, rear, and side skirts as well as some lowering springs. Yes I am very interested in car modifications because my brother Mike has added all the modifications for my car over the past two months.
7. Is this your first Kia product? What vehicles have you owned before your Soul?
Yes this is my first Kia and previously I drove a Toyota Camry but I am certainly happy with the switch.
8. Did you change your attitude toward Kia products since you've bought the Soul?
Yes, Kia has grown to be a top-notch competitor no longer competing with the lower brands. As a Kia driver, this has certainly impressed me and I believe Kia has passed many Japanese automakers in manufacturing.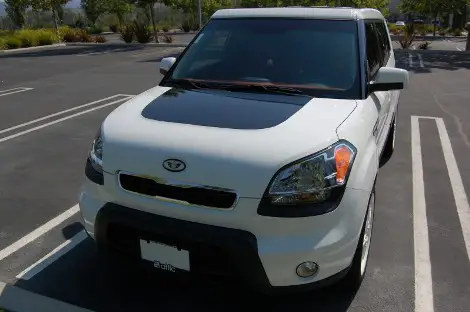 About the Owner:
Name: Peter Lee
Age: 17
Location: Diamond Bar
Occupation: Student
Hobbies: driving and fishing
Kia Soul:
Engine: 2.0L
Tranmission: Auto
Colour: White
Model: Soul Sports Edition
Wheels/Tires: 18 inch MSR rims
Average mpg: 27
Milleage: 1980+
Price: 20.000

List of Kia Soul modifications: Rims, subs, underglow, hood-vinyl, black-housed headlights, smoked taillights, HID.