The latest in our owner's series is a bit of a special one, as it features a Kia vehicle that all of you have been waiting for.
We are talking about the 200-hp Kia Soul Turbo, and Tom, a software developer from Phoenix, AZ, was more than happy to share the details of his sweet, bright red ride.
Tom's previous car was a Mini Cooper, so it's obvious that he has a definite thing for vehicles with a cool design. He was looking for something a little bigger this time around, not to mention a vehicle that would be comfortable when driving 45 minutes to work.
This was his first Kia vehicle, but he was sold by the look of the facelifted 2017 Soul turbo the moment he saw it for the first time. That happiness extended to his first driving experience, with the smooth shifting 7-speed automatic and the host of standard features a joy to behold.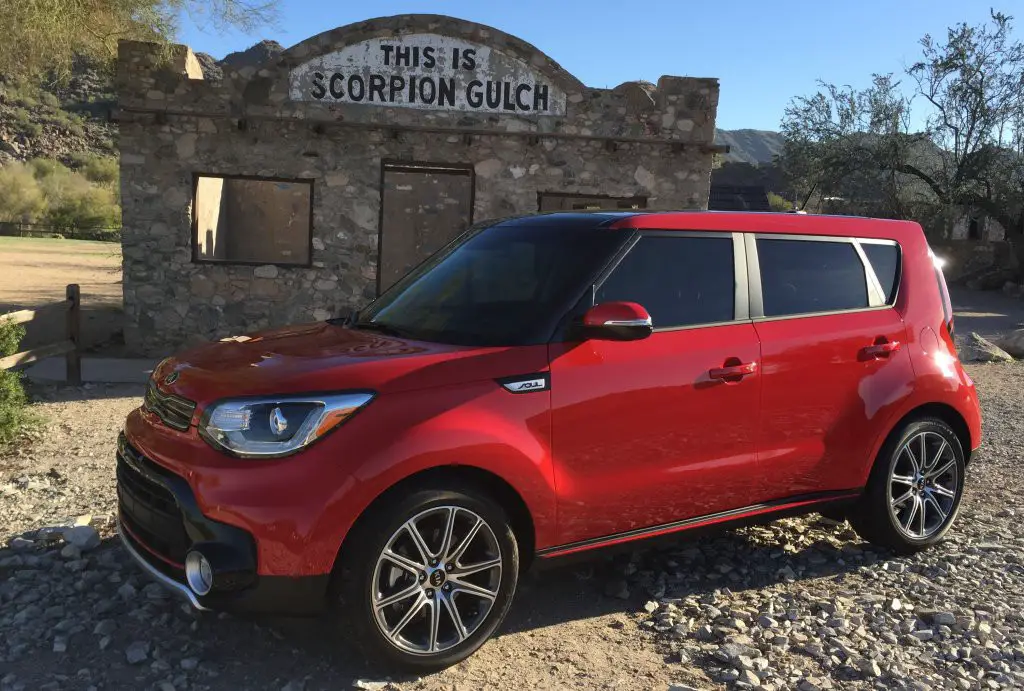 It was an easy decision for Tom, and he now takes great pride in telling people all about his Soul, and all the cool features that it comes with. He is even happier when people are stunned to learn that he paid a whole lot less for those features than they did to get the same things in their ride.
Read on to learn more about Tom and his 2017 Kia Soul turbo experience.
2017 Kia Soul Exclaim turbo specs
Engine: 1.6L 4-cylinder turbo
Exterior color: Red
Trim level: !
Model year: 2017
Tire size: 18″
Average MPG: 28 mpg (first 300 miles)
Miles driven so far: 330 miles
Interview Q&A
1. Tell us something about your Kia car ownership experience so far?
This car is everything I dreamed it would be, and more. It's beautiful inside, like any luxury car. The 7-speed automatic is so smooth shifting I barely notice it, unless I'm in sport mode.
The driver's seat is super comfortable and adjustable beyond what I'd ever need. I've already had opportunities to use the heated seats, and wow, the heated steering wheel. That's amazing.
I keep finding new things that make me smile. I haven't had time to read through the manuals yet, so I've been discovering features accidentally. When the navigation is on, and the display between the gauges is set to the compass, it displays information about the next turn for the navigation.
This is awesome because I don't have to look over at the navigation screen; I can just take a quick peek down at the gauge cluster.
If I'm not looking at the compass, and I'm looking at the digital speed instead, I found that if I turn on Soul Sport Mode, the number goes italic, and adds 2 more gauges–one for the turbo and one for torque.
It looks like something out of a video game…totally made me smile.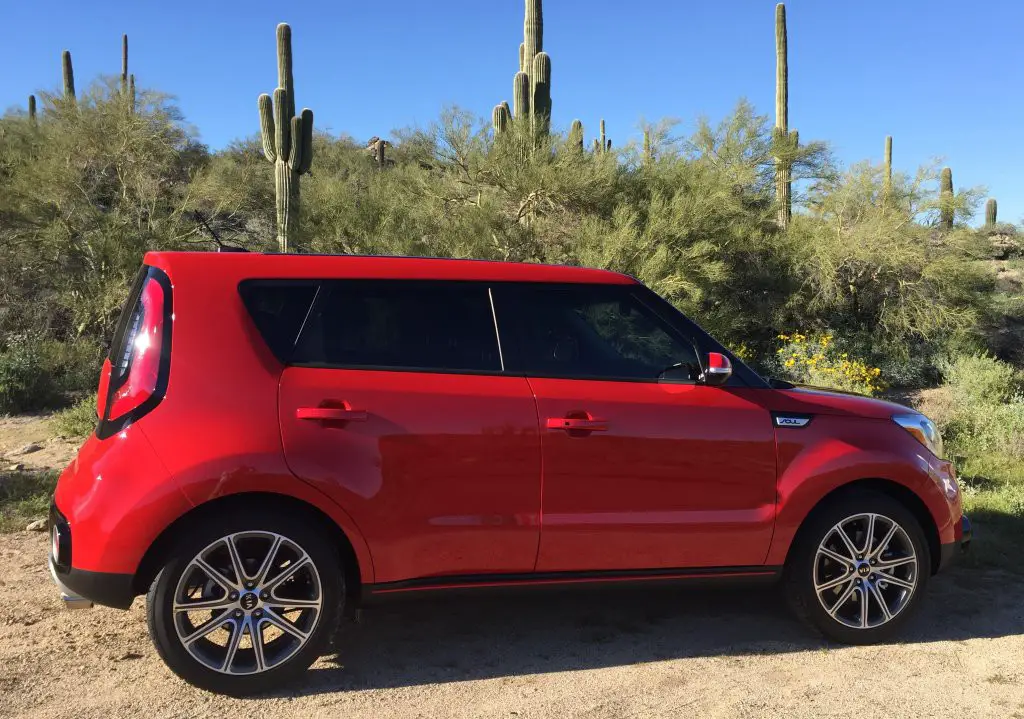 2. How long have you owned your 2017 Soul Exclaim?
I bought my Soul on March 1, 2017.
3. Honestly, what was your intention when you bought your Kia Soul?
I wanted something bigger than my current car, and automatic. I've been driving a manual for years, but in traffic, an automatic would be much easier for me.
The Soul crossover has had my eye for a couple of years now, and the only thing holding me back from getting one was the reports that engine was underpowered.
While that might not be a big deal for most people, I was used to driving a 1.6L turbo MINI Cooper S. Then I heard about the new Kia Soul 1.6L turbo, so I pretty much knew how that would feel. I test drove the Soul and was grinning the entire time.
4. What do you like the most about this car?
Apart from the turbo engine, which is so much fun, I'd have to say the technology.
The Harman Kardon stereo sounds great. It sounds like what people spend thousands of dollars upgrading their stock stereos to sound like.
Everything in the touchscreen is intuitive and you barely have to touch it. I've used other touchscreens where you had to press a little…not this one.
I haven't even started using the voice commands yet, but I know they're there. There's so many technology features, it feels like I'm driving in the future.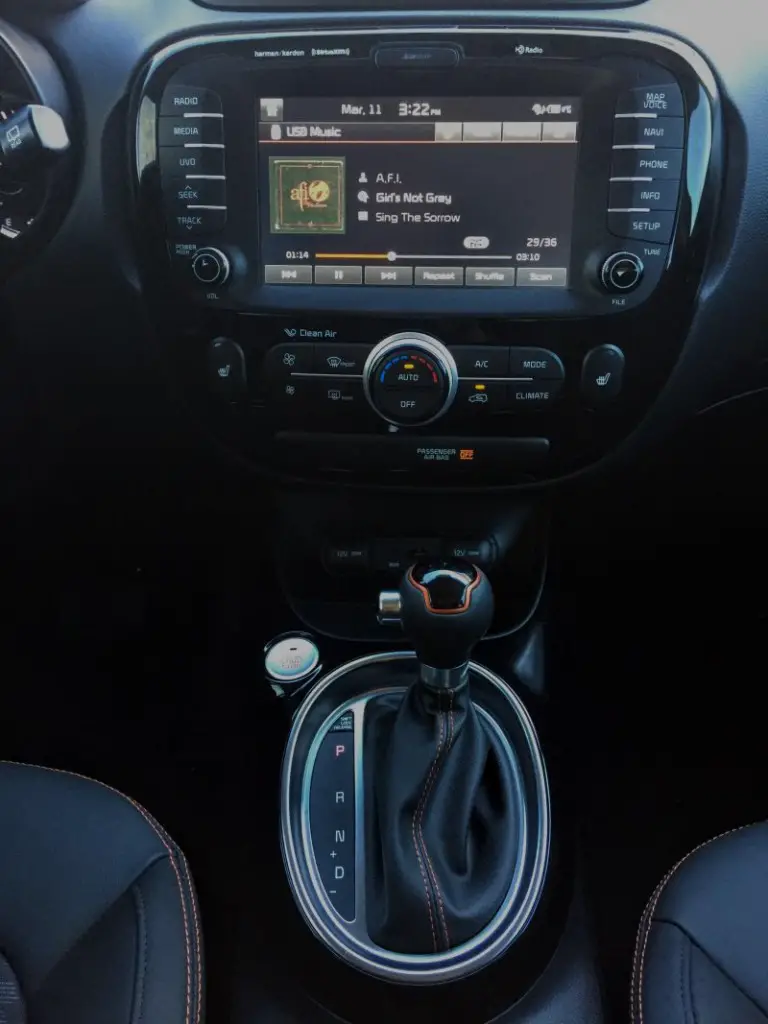 5. What do other people say about your ride?
It's funny, actually. At first, they say, "really, a Kia?" with a weird inquisitive look on their face, and then I explain about the car, all of the technology, features they don't have in their own cars (often more expensive cars), and then if I show them, they're like "Wow, I had no idea. I just might need a Soul."
6. What is it that makes your Soul ! unique?
So far, it's just stock, with the tech package, panoramic sunroof, and tinted windows. I haven't seen many Souls with this sunroof though.
For some reason, the red soul comes with a red "soul" emblem, so you can barely see it.
I ordered a chrome one that I'll replace it with, as well as some chrome letters to spell out TURBO, because people should know that it's a turbo, since Kia really hit the mark with this engine.
7. What Kia Soul accessories have you installed so far / do you have any future plans?
Next week, I'm adding the HomeLink auto-dimming rearview mirror with garage door buttons, remote start so I can cool off the car before I get in (Arizona summers are brutally hot), and a rear spoiler.