Kia Soul Forum breaks two-thousand members in less than nine months and keeps rising fast!
This past week was a big milestone for the Kia Soul forums website!
The page's internal stats revealed that the forum have gone past the 2.000 members / Soul owners mark.
Today, the forums already have 2.054 members and it is on a good way to pass the 2.100 members within the next few days.
This is an incredible result for the owners of the Soul forums, especially when considering that website has only been on-line since December 2008.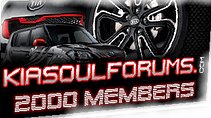 Those of you who are members of the world's largest "Hamster World", or at least browse through the website from time to time, do remember our 1.000 member announcement back in June 2009.
Since then, the site exploded with more new members joining us each day!
Less than three months after our first 1.000 member announcement, we already passed another 1.000 member milestone and we keep growing fast.
At this special occasion, we'd like to greet and thank all the members of the "Soul community" that make this forum the best of the best on the web.
At the same time, I'd also like to thank our super moderators, as well as our two sponsors, Shark Racing and Evo Fusion USA.
We wouldn't be able to achieve these milestones without all of you!
So, thank you everybody for your continued support!
Special thanks go also to Kia Motors, the creator of the fabulous Soul crossover, which is making huge strides all over the world, but especially in the North American market, where it has been conquering hearts of thousands of young and young at heart people.