If you have read the previous entries into our Kia owner's series, you are probably well aware that nearly all have come from North America.
We decided it was time to get a little global, which is why we spoke to Evelyn, a 32 year-old primary school teacher from Herdorf, Germany.
Evelyn's first foray into the Kia world was in a Picanto city car. It was a little small for her needs, but as she had just finished university and was working as a trainee teacher, it was the best that she could afford at the time.
She eventually was able to make the move up to the Kia Soul now, and it is a decision that she had never regretted, although she admits that she still misses 'Knut,' the name that was given to her Kia Picanto.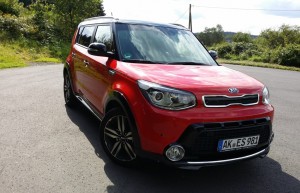 She was sold on the features and style of the new Soul CUV after doing a bit of comparison shopping.
She felt that the Soul was also a great fit for her personality, which she says is about as far from the traditional girly style as it gets.
She likes motorbikes and also loves a good horror or action movie. She sees herself as being a little edgy and different, which are definitely words that have been used to describe the Soul.
When asked what she likes most about the look of her car, the first thing Evelyn talks about are the chrome trims and two-tone exterior, which she says were a big part of the reason in her buying the car in the first place.
She also loved the sound system that comes with the Soul, as well as the rear driving camera.
Read on to learn more about Evelyn and her experiences with her new Kia Soul.
Kia Soul specifications (Germany)
Eengine: 1.6L CRDI Diesel
Exterior color: two-tone Red & Black, with chrome trims
Trim Level: Spirit (called that way in Germany) + VIP-Package 1, VIP-Package 2, SUV-Package
(might be compared to 'Exlaim' without the SUV-Package, which is not available in the States, as far as I know)
Model year: 2014 (in Germany)
Tire size: 235/45 R18
Average fuel-consumption : 5.9 liters per 100 kilometer
Kilometers driven so far: 4200 km (dealership = 3200 km, myself 1000 km)
Evelyn's Kia Ownership Experience
1. Tell us something about your Kia car ownership experience?
It has been great so far! My new Kia Soul has so many new features compared to my old car, it took me some days to learn it all. It is astounding, what technical advancement/development made possible in only 8 years.
Kia Soul has the best of both worlds, driving 'safely' and having 'fun' while doing it.
2. What do other people say about your car?
What you should take into consideration, is, that the Kia Soul is not as well known around Germany, as it is in the States, Canada or in the UK.
I think I read somewhere, it was produced for the North American market. I have seen maybe 6 to 10 Kia Souls since it was first released here in Germany in 2008 .
So, if somebody sees a Kia Soul, it is more about the way they look (at it) than about what they say.
I got the Soul with the whole shebang-package and the two-tone exterior in red and black, which makes the car very noticeable/recognizeable in itself. On top of that, design of the car is a lot edgier than most Germans are used to.
Thus, when I drive by, my Soul and I turn a lot of heads. And to be honest, I like that – a lot!
My neighbours or even some strangers at the supermarket asked about the car, because they were curious: 'What kind of car is that? Where did you buy it? What kind of features does it have? Etc…
I haven't gotten any negative feedback so far, everybody likes my new ride.
3. How long have you owned your ride?
I own my Soul for about two weeks now and I couldn't be more happy. When the Soul was first released in 2008 in Germany, I instantly knew, I wanted one. I liked it back then and my fondness only grew over the years.
When my first car – which was only 8 years old at the time – started to have some technical problems earlier this year and the new 2014 Kia Soul was released in Germany, I saw this as a sign to fulfill my dream.
So the Kia Soul is literally the car of my dreams!
4. Honestly, what was your intention when you bought your Kia?
To fullfill my dream to own a Kia Soul, as I already wrote above. It's not about the interior or the technical specifications of the Soul, which are certainly great in many aspects, but not in all, to be honest and fair.
The gas/fuel-milage isn't that great and the car exhaust pollution could be better, at least compared to most modern/German cars. The Soul isn't the cheapest ride.
But knowing all this, I still bought the Soul, because I like the edgy design. That's my main reason, I think. No, I am sure!
5. What do you like the most about your ride?
That is a difficult question. What's not to like? I guess what I like most, is the two tone-exterior with the chrome trims at the bottom of the car and around the fog lights.
I wouldn't have bought the Soul without those, because it looks so much better with it.
What else, do I like? Hm, the Sound System is really great in my model and the rear-driving-camera is a nice feature.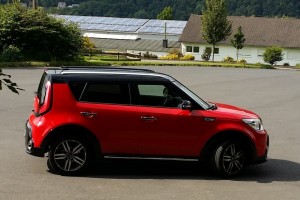 6. What is it that makes your ride look unique?
The Soul in itself is unique here in Germany, because of its edgy design. I did not add any parts to make it even more unique. There's no need for that
7. What Kia Soul accessories have you installed so far / any plans for future?
I haven't gotten around to it, but I plan to buy some rubber floor mats to protect my intirior, because it rains a lot where I live. But that's about it.