Dawn traded in her old Jeep Wrangler for a brand new Titanium Gray Kia Soul.
Here's why…
Our latest member in the Kia owner interview series is Dawn, a 40-year old mother of 2 from Indiana. She had been an avid Jeep driver for over a decade, but decided it was time to switch to something more comfortable.
A little bit of research brought Dawn to the 2014 Kia Soul, with the safety features, quality, and affordability all major selling points.
She was also blown away by the warranty Kia puts on all their vehicles, which was what actually ended up making her decision final.
Dawn says that people who talk about her car usually ask about the hip-hop hamsters from the ads for the Soul, but that humor turns to admiration once they get a look inside.
While convenience and comfort played a role in Dawn's switch from the Jeep Wrangler to the Kia Soul, she also wanted a vehicle that could be modified and upgraded without spending an absolute fortune.
Since she has only had the car for a few days, Dawn hasn't been able to make any modifications just yet. The first is likely to be fog lights, with custom graphics also on her shopping list.
1. Tell us something about your Kia car ownership experience?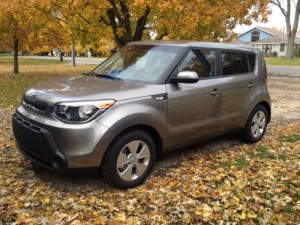 I'm very excited and impressed by the warranty that comes with my new Kia. It's only the second new car I've ever owned.
The previous one was a Plymouth many years and the warranty wasn't even comparable to the Soul.
A solid warranty is important to me and was one of the deciding factors in choosing a Kia.
2. What do other people say about your car?
First response is usually about the hamsters and then that it is cute. Once they get in they usually comment on how spacious it really is.
3. How long have you owned your ride?
5 days!
4. Honestly, what was your intention when you bought your gray Kia Soul?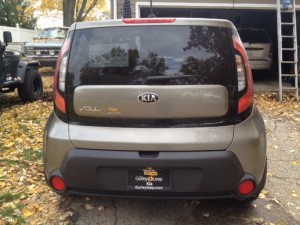 Coming from a 2001 Jeep Wrangler, I was looking for convenience and comfort first off.
I wanted something that I could get some nice options without breaking the bank and still have a car that was worth the money I spent on it later on.
I wanted some basic technology like Bluetooth. I wanted something sporty and fun. And small.
5. What do you like the most about your ride?
It's adorable and so fun to drive. Quite peppy for a small engine.
6. What is it that makes your ride look unique?
People aren't quite sure if it's a car or SUV. The squareness sets it apart, especially since it's still relatively small.
7. What accessories have you installed so far / do you have any future plans?
Nothing yet since I've only had it a few days. I'd like to install some fog lights. Thinking about some fun graphics too. I'm very excited to see what I can do with it to make it my own.
Titanium Gray Kia Soul Photos
Kia Soul gray specs
Engine: 1.6L GDI 4 cyl
Color: Kia Soul Titanium Gray / Black interior
Trim: Base
Model year: 2014
Tire size: 16″
Average mpg: 32.5
Miles driven so far: 352