The latest in our Kia Soul owner interview series takes us to the Great White North to meet Marc from Toronto, Canada.
Marc works for a large Consultant Engineering firm and used to get around town in a Vanilla Shake 2010 Kia Soul that he totally loved.
Marc soon found that there were plenty of other people who shared the same passion for the Kia Soul in his part of the world, so he joined the Soul Club of Ontario and have been a very active member there.
When the time came for Marc to get a new vehicle, he knew that it would be another Kia Soul.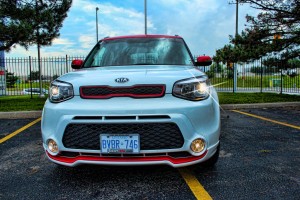 His choice this time around was the 2014 Kia Soul Red Zone special edition model which was released in Canada only a couple of weeks ago.
The only downside of the deal was that he had to trade in his Soul of the last 4 years, but the upside was pretty evident when he got behind the wheel of his new ride.
What he quickly found was that the second-generation Soul crossover vehicle had a number of great upgrades inside and out, including the UVO infotainment system.
The one thing that Marc also noticed about his new ride is the admiring glances that it gets as he goes around town.
He says that people, young and old, are constantly taking pictures of the car or stopping him to ask questions about it. Marc believes that this is a vehicle that deserves all the attention it is getting.
2014 Soul Two-Tone Special Eedition Specifications + Review
Engine: 2.0L, GDI, 4-cylinder, 164 horsepower
Exterior Color: Polar white color body with Inferno Red roof and mirrors
Trim: SX / SE two-tone (Red Zone)
Model year: 2014
Tire size: 18" P235/45R18
Average mpg: Too early to tell still on first tank of gas
Miles driven so far: 450kms (280 mi)
First Kia Soul
I purchased a Vanilla Shake (dune) 2010 KIA Soul 4U back in April of 2010. I immediately fell in love with it.
Everything about it was awesome. I made it my own by adding all sorts of modifications to it. I added touches of red both in the exterior and the interior of my Kia.
My Soul was unique and there were no other ones like this anywhere else. It made me happy for four years, never had any problems with it whatsoever.
I joined the Soul Club of Ontario and met some other folks that also had the same passion about their Souls as I did. We go on many Soul cruises and car shows together. Great comradery.
New Kia Soul (2014 Model Year)
I knew that my next car was going to be another KIA.
Then I saw her. A 2014 Polar White / Inferno Red Kia Soul SX SE. (Red Zone) I had once again fallen in love with another Soul.
I wanted it, I needed it as it had my name and cues written all over it. I traded my beloved 2010 Soul for my second Soul.
What a beautiful car. I was depressed to let go of my first Soul and I traded her in for this one.
Out with the old, in with the new. I loved my first Soul, but I love this new one so much more.
Everything about the new Soul is so much better, ride quality, comfort, materials, UVO system, everything.
People Admire The Car
Whenever I stop somewhere, I always get people approach me and ask me about my car. I often see folks, really young to really old, take their phones out to snap photos as I am stopped at a red light or just driving by, slowly.
My friend all say that I have a nice looking car. As my first Soul, this one will be washed once a week to keep her looking beautiful.
Upgrades And Aftermarket Modifications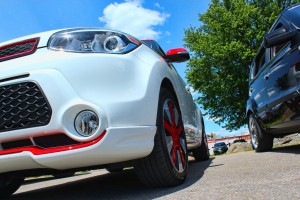 I've only owned it for a week and I've already ordered some modifications for it.
I ordered an SSD Strut brace, window visors, some chrome exterior garnish trim which will be painted red, of course, some Brenthon emblems.
I will more than likely tint my front windows and eventually add a Cold Air Intake.