Kia Soul review, written by Heather Pugh aka Soul Sailor (the owner).
In October 2009 I was looking to purchase a new car. I had a 1999 Jimmy and was on the road quite a bit with work so I needed something more fuel efficient.
I didn't want a car that looked like everything else on the road. Kids are grown up now so I wanted to have something more fun.
I had a 1985 Honda CRX when I was single and gave that up for a minivan when I was starting a family. One day on the way home from work I spotted a very different looking car, a Kia Soul and decided that I needed to check it out.
Went to the local Kia dealership
I headed for my local Kia dealer with my husband who is 6'9" tall. He doesn't fit in most cars but the Soul he fit quite well.
I liked the little car right away although I thought the speakers flashing speakers were a little much but later that would become one of my favourite features.
Once I started driving I was obsessed.
My salesman had started the Soul Club of Ontario and I wanted to meet with other Soul owners.
I started chatting as "Soul Sailor" on kiasoulforums.com and Soulhamsters.com, Streetkiaz and their Kia news facebook sites as well.
I went to my first meet the following spring to meet some of the members I had chatted with on the forums.
Kia Soul sccessories & car shows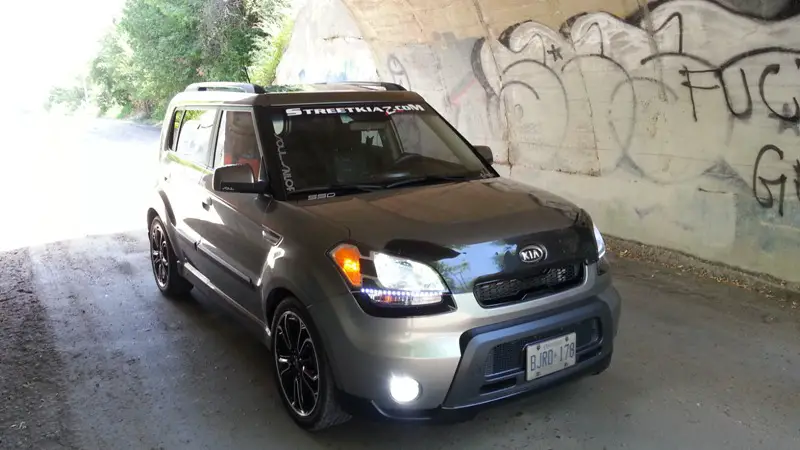 It didn't take long for the modifications to begin. I entered my first Car Show ImportExpo 2011 and came 3rd Best in Class.
Now three and a half years and 120,000km later the novelty has still not worn off.
I love to drive and love my Kia Soul. I have regular meets at my house to do modifications and detailing.
The group calls me "The Underhood Nazi" as I am always making sure everyone has cleaned under the hood.
I had over 20 people for Thanksgiving and Christmas potluck.
We cruise regularly, meet often and chat constantly.  We also enter car shows to represent Kia.
Soul Club of Ontario also meets with Soul Hamsters in Niagara Falls New York on Goat Island and just had a 3rd annual meet with 20 Souls and one Forte.
We are all best of friends. Can't even imagine what we will do when the cars start to wear out.
Buying new generation Soul crossover?
Buy a newer model?  Who knows but I am looking forward to more modifications, meets and car shows and a lot more miles!
New Friends. The best accessory!
Kia Soul specs & accessories
Model: 2010 Kia Soul 4U
-Takeda CAI
-SSD Strut Brace
-SSD Engine Damper
-Magnaflow Exhaust
-HID Headlights
-HID Fogs
-OEM European Rear Fogs
-OEM LED Side Marker Lights
-18" Alloy Clover Rims
-Painted Calipers
-Full Kia Body Kit
-OEM Burner Grill
-OEM Chrome Rear Garnish
-Eyeliners
-LEDs Around Headlights and Under Hood Lighting
-Sport Pedals
-Upgraded Sound System
-Speaker Lighting (flashes to the music)
-Weathertech Mats throughout