There has been a lot of talk about the new Kia Soul and the changes made, but you have to talk to an owner to get a real feel for how great it really is.
The latest in our interview series took time to tell us about his experience with his rather flashy looking Alien II Green Soul, including some of the changes he made to make it a little more unique.
The idea to go with the Kia Soul came when he was looking to downsize from his Nissan Murano.
In doing so, he felt that he might have to give up on luxury features and quality of build, but the Soul proved that you could go smaller and still get a whole lot for your money.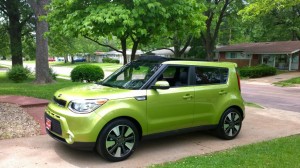 The Soul was not really a car that was being considered when he first started shopping, but after test driving at least 10 different cars and sitting on the brink of giving up hope, he spied the Soul on the lot of a Kia dealership.
He took it for a test drive and was impressed, but wasn't immediately sure if that was just because he had been so unimpressed by the other cars he had tried.
He went back the next day, tried it again, and found that this was definitely the car, which he eventually named Marvin, which was perfect for him.
He was drawn to the Alien II Green color, as it helps the car stand out on the road.
The changes made so far include a drop in K&N filter and a Marvin the Marian sticker on the back window. There is sure to be more to come, though.
Soul Specifications & Trim Level
Model year: 2014
Exterior color: Alien II
Trim: Exclaim (!)
Engine: 2,0L 4-cylinder unit
Tire size: 235/R45/18
Average mileage: 25.5 mpg
Miles driven so far: 880
1. Tell us something about your Kia car ownership experience?
Well I have had my Soul Exclaim for almost two weeks now and I am very happy with my new buddy Marvin.
I downsized from a Nissan Murano and expected to take a hit on luxury features and build quality but was pleasantly surprised that this was not the case at all.
In fact my little Kia Soul feels and rides very solid and has quite a few luxury car features.
2. What do other people say about your green-painted Soul?
My family loves my car. Especially my nieces and nephews. The sky roof and the Alien II color were big hits.
3. How long have you owned your new vehicle?
I purchased my Soul on May 21st 2014.
4. Honestly, what was your intention when you bought your Kia?
I wasn't even looking at the Kia Soul when I started car shopping. I wanted something smaller, more efficient and practical but not boring!!!!
I test drove everything from a Chevrolet Camaro convertible to a Buick Verano, Toyota, Honda, Mazda etc, etc.
I was actually heading home after a long and frustrating day of driving at least 10 different cars and not finding anything that felt like the "right one".
I happened to drive by a local Kia store on the way home that had just opened and turned into the lot.
When I went inside my car was sitting on the showroom floor. I went for a test drive and was very impressed.
After driving so many cars though I didn't trust my instincts so I came back the next day to drive it when I was fresh.
I liked it even more the next day and drove Marvin off the showroom floor after a very pleasant buying experience.
The car met all my criteria for efficiency and practicality while putting a smile on my face.
5. What do you like the most about your ride?
Marvin is quiet and smooth. I love cruising with the windows down,the roof open and my stereo cranked up.
6. What is it that makes your 2014 Kia Soul look unique?
Well I have the exclusive Alien II exterior color and in the US especially it stands out.
All you see anymore on the road is the same black, white, silver, red and blue colored cars.
I also like that it is shaped sort of like a bulldog crossed with a frog.
7. What Kia accessories for the Soul have you installed so far / do you have any future plans?
Right now I have only put in a drop in K&N filter and I put a Marvin the Martian decal on my back window. Not sure what's next but I'm sure I'll be doing something.
Kia-world editor's note: Thanks for sharing your thoughts on your new Kia Soul Exclaim! Enjoy your ride and drive safely!