We head to the sweltering heat of the Nevada desert to talk to the latest entry into our Kia owner's series.
Our latest owner is a retired USAF Structural Engineer who now splits time between teaching college classes and partaking in his hobbies, which includes riding the Las Vegas roads in his eye-catching 2013 Kia Soul, painted in Alien Green exterior color.
This is the second Kia vehicle for this owner, with his decision to get a second car very much inspired by the great ownership experience he has had with the 2012 Optima Hybrid.
It also helped that he was able to score a great deal by returning to the same local dealership where that first car was purchased.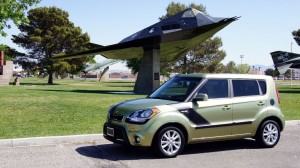 This is an owner who loves to create a unique look for hos vehicles by making his own modifications.
As such, neighbors have been offering suggestions as to what can be done to make his 'Hamster Mobile' look even cooler than it already is.
While he admits that the car was essentially bought to be the secondary vehicle used for grocery runs and other local trips, he also feel that it doesn't have to look boring.
It is the fact that the Kia Soul is so easy to customize that made it such an appealing option in the first place. Time will only tell how much this little crossover changes from its original look.
Kia Soul Owner Q&A
1. Tell us something about your Kia Soul ownership experience?
This is my 2nd Kia and was purchased largely because my 2012 Optima Hybrid has been such an outstanding vehicle and I got such an incredible deal on the Soul (from a truly fantastic dealer).
2. What do other people say about your car?
Most of my neighbors and friends know how much I'm into 'modding' my vehicles, so they've been very enthusiastic about what I plan for my 'Hamster-Mobile' (as the kids call it), often offering suggestions.
3. How long have you owned your ride?
I 'adopted' my Soul 20 Feb 2014, so I've him about a month now.
4. Honestly, what was your intention when you bought your Kia?
This vehicle is just the family grocery-getter, but that doesn't mean that it has to be dull or boring.
5. What do you like the most about your Alien Green Soul?
Love the looks, the size, the roominess, dealership experience… and the ease of customization/modding (work/installation I do 100% myself).
More Images Of The Green-Painted Soul CUV
6. What accessories have you installed so far / do you have any future plans?
So Far I've installed:
01) Applied Matte Stripes (Hood+Roof+Rear+Sides)
02) Covered the A/B/C Pillars in Carbon Trim
03) Covered the Wheel-Well Edges in Carbon Trim
04) Trimmed the Front-Lower Grille in Carbon Trim
05) Added LED DRLs Under the Headlights
06) Added LED Fog Lights in the Lower Grille
07) Added LED Projector Driving Lights in the Lower Front
08) Trimmed Much of the Interior In Real Brushed Aluminum+Chrome+Carbon Trim
09) Added A Navigation System+Backup Camera
10) Installed a 'Sports' Spoiler
11) Installed 'Glowing' Alien Head Front and Rear
In addition to that which I've already added, I plan to:
01) Fully Integrate the GPS/MM Display Into The Dash
02) Install True HID Headlights and LED Tail lights
03) Install an SSD Intake and Exhaust with an Exposed Exhaust Tip
04) Install an SSD Strut Tower and Lower Frame Braces
05) Recover All Seating Surfaces/Door Panel Inserts In Back and Grey Leather
06) Replace the Headliner With Something 'Suede-Like'
07) Add New 18 or 19 Inch Custom Wheels+Tires
08) Install A Webasto Hollandia 500 Panoramic Sunroof
09) Replace All Emblems With… ???
10) 'Investigate' Some Sort of Forced Induction System… ???
2013 Soul Specs
Engine:  1.6l DOHC/GDI
Color: Alien Green (The Soul's 'signature' color)
Trim:  Base
Model year: 2013
Tire size: 16 inch
Average mpg: 27mpg
Miles driven so far: 900+