Freedom Motors Australia have a pair of Kia models in their lineup that can be given wheelchair accessible conversions:
1. Kia Grand Carnival minivan
2. Kia Soul crossover
Kia Grand Carnival wheelchair accessible minivan
Kia Grand Carnival currently ranks as the most popular in the range.
The Wheelchair Conversions are available in Family and Passenger formats, creating plenty of space inside the cabin of the Grand Carnival. Consumers have the choice of either a standard or premium conversion.
There are some definite height and width restrictions on the standard model. It will easily house a wheelchair not wider than 600mm, with the lowered tray designed to fit over the rear suspension, with the end result being a slope and hump once the floor is lowered.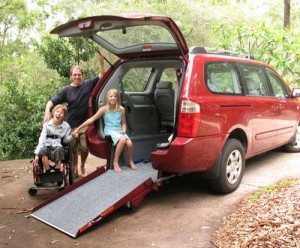 The floor is completely flat on the premium model thanks to the unique rear suspension system used by Freedom Motors.
This means fewer restrictions for those who are taller, whilst also making the vehicle easier to get in and out of.
There are a host of options available for the conversion.
The Wheelchair Docking System is among the most popular of those options, but there are also plenty more, such as rReversing sensors, reversing mirror / camera system, side steps, fold-down double seat, electric wheelchair restraints, electric opening and closing ramp, and the remote opening and closing tailgate and ramp system.
The Docking System removes the need for tie-down straps, saving time and a whole lot of energy that would ordinarily be used in tying down the chair.
If a self-drive conversion is on your to-do list, this vehicle conversion is the best you can get. You can choose the wheelchair to electric operated driver's seat conversion or go with the drive from wheelchair option.
Kia Soul wheelchair accessible car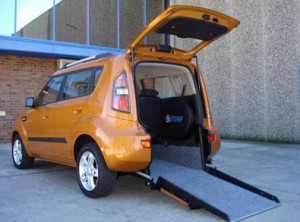 The other Kia vehicle available for conversion is the Soul crossover.
This looks like being the perfect option for wheelchair conversion buyers looking for a smaller vehicle dfor their specific needs.
The Soul truly is a vehicle that needs to be looked at if you are considering going with wheelchair access in a smaller vehicle. To make it all the more appealing, Kia Australia also offers a 5 year unlimited kilometre warranty.
The compact car is incredibly roomy inside, no matter what conversion i chosen: 'Family Member' (2 seater), and 'Self Drive' (Transfer Seat). This really is a great alternative for those uncomfortable in a lrge people mover
There are also plenty of options available for the Kia Soul wheelchair conversion.
This includes a fold-down double seat that can add 2 extra seats, although this cannot be used in conjunction with a wheelchair.
Also available are reversing sensors, reversing mirror/camera system,  electric wheelchair restraints, electric opening and closing wheelchair ramp, remote opening and closing tailgate and wheelchair ramp system, and of course the Wheelchair Docking System.