The latest in our Kia Soul owner's series takes us to Windsor, Canada, where we spoke to Nicole, the owner of a small business named Candid K Nines Treats.
Nicole joined a family of Kia owners, with her brother and father both also fans of the brand. This dog lover believes that the decision to go with a Kia was a good one.
One of the main reasons that she went with the new Kia Soul was because of the need to have a vehicle that was roomy enough to carry supplies and trade show items, whilst also still being fun to drive.
The Soul crossover vehicle fits that bill to perfection.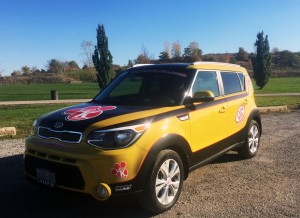 One thing that has come as a bit of a surprise to this Kia owner is the amount of interest that here vehicle of choice has sparked.
She constantly gets questions about all aspects of the Soul, from the amount of cargo space to gas mileage and leg room all of interest to folks.
The Soul is a unique looking vehicle, but a little bit of customization can make it stand out even more.
Nicole decided to go bold by choosing the Solar Yellow exterior color, but has added to that by wrapping it with company logo's, as well as the logo of Lally Kia, who sponsored the vehicle for 3 years.
The work was done by RPM Designs, and they made the work totally unique by making the wrapping reflective, which is not something you see very often.
Read on to learn more about this ownership experience.
Kia Soul specs & information
Engine: 2.0L I4 engine
Color: Solar Yellow
Trim: Ex
Model Year: 2015
Tire Size: 17" Alloy Wheels
Average Mileage / Charge: 28 City, 37 Highway
Miles Driven So Far: 35,000
1. Tell us something about your Kia car ownership experience so far?
My Kia car ownership has been positive. The staff at Lally Kia, where I bought my car, are incredible!
From the sales team to the service department, I've had nothing but a positive experience. Five star rating here for sure!!!
2. How long have you owned your ride?
I purchased my Soul on December 31 2014. So I have owned it for approximately 1 year and 11 months.
3. Honestly, what was your intention when you bought your Kia Soul?
I own a small business and I was looking for a vehicle that was reliable, roomy enough to hold all my deliveries and trade show boxes, but also something that was sporty and fun. The Kia Soul was a perfect fit.
4. What do you like the most about the car and what would you change about it (if possible)?
I love everything about my Soul. It's comfortable and fun to drive. All the upgrades and things I would change already come in the SX with the Luxury Package.
Since I drive an EX, I would love to move up in a package. And if Kia Soul came available in purple color that would be awesome!
What do other people say about your car?
I drive a LOT and I'm often stopped and asked about my Soul. People usually want to know about gas mileage, leg room, how big the cargo area is, and if I would recommend it. Absolutely I would!
6. What is it that makes your ride look unique?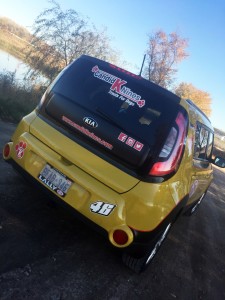 My Soul is solar yellow, which even for a soul is unique; you just don't see too many yellow ones around.
My Soul is also wrapped in my companies logos, and I have Lally Kia as a car sponsor (three year deal, I'm currently on year two). When RPM Designs wrapped my Soul, they made the wrap reflective, which is very unique.
7. What Kia Soul accessories have you installed so far / do you have any future plans? 
I have Weather Tech mats, a remote starter, a hitch and cargo basket, and a front LED Kia emblem.
I would like to add a bug deflector, side visors, and paint the rims. Are ground effect lights still a thing . . . if so count me in!