For our latest entry in the Kia owner's series we head to Chandler, AZ, where Nikki, an IT support representative, is a proud and active member of the Kia Soul community.
In fact, Nikki is the moderator at the SoulHamsters.com community, which is THE online venue for talking about the Kia Soul.
Nikki is definitely someone who is well versed in the auto world, as she spends a ton of time at motor shows, and was also a 3rd place winner at the Phoenix Duel in the Desert race.
She is also a keen Kia enthusiast, having been the owner of a pair of different Kia vehicles (Rio and Spectra) before getting behind the wheel of the Soul.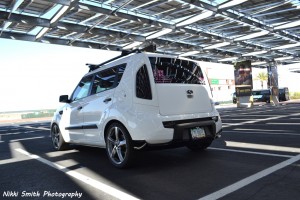 Her latest purchase has undergone some cool mods, and she now refers to it as Little Devil.
She is always delighted at the great responses she gets when people see Little Devil, but Nikki never really bought the vehicle expecting to do any major upgrades.
She wanted something that was good on gas, and she was very much inspired by the initial Kia Soul commercials on TV.
She has owned the car since 2011, and has since made numerous upgrades, all of which you can hear about by reading on.
Soul Owner Q&A
1. Nikki, tell us something about your Kia car ownership experience?
I have owned 2 other Kias before my Soul. A 2003 Kia Rio, M/T. I couldn't drive it home because I didn't know how to drive stick shift at the time.
And then I had a 2003 Kia Spectra GS. That was a fun little car, especially the "hidden" hatchback look.
When I bought my Soul, I never thought I'd modify it the way I did. Now I own a Kia Soul that I call Little Devil.
2. What do other people say about your car?
People are shocked to see a "slammed" Soul. They are always telling me how good it looks. A lot of people I come across are surprised when I tell them I added the modifications myself.
3. How long have you owned your ride?
I have owned my Little Devil since February 2011. Best decision I've ever made.
4. Honestly, what was your intention when you bought your Kia?
I needed a car of my own with good gas mileage; I was tired of using my dad's Ford F150 that was a gas hog.
I remember when I first saw the commercial for the 2010 Soul with the Hamsters, I thought it was the funkiest looking car ever! But in 2011 when I pulled into the dealership, I just fell in love with the car.
5. What do you like the most about your ride?
What is there not to like? I love my car! I love how my car sounds with the SSD exhaust and intake. It doesn't have that high pitched whining sound but rather a deep throaty sound that you'd get from a sports car.
6. What is it that makes your ride look unique?
The HSD Coilovers make such a difference, not just in looks, but also in ride quality. The coilovers have provided me with a nice 3 to 4 inch drop.
7. What accessories have you installed so far / do you have any future plans?
Current Modifications:
LED Headlight "Eyebrows"
SSD Roof Rails w/Aero Cross Bars and SSD Wind Fairing
SSD Light bar w/Hella Black Magic Driving Lights
SSD Axle-Back Exhaust
SSD Cold Air Intake
SSD Fog Light Vents
Tinted Taillights and Rear Reflectors by Monster Paint
FX TWM Performance Shifter Cable and Base Bushings OEM Sport
Throw Shifter OEM
Front and Rear Body Skirts in Piano Black
Carbon Fiber Upholstery
Vinyl Shifter
Boot Carbon Fiber Upholstery
Vinyl Door Panel Inserts
White PlastiDip Center Console
Trim White PlastiDip Hood and Hatch
Diode Dynamics Interior and License Plate LEDs
Stage 2 Stage 2 Reverse LEDs by Automotive Custom Lighting
LLC Uniq Performance Strut
Tower Brace HSD Monopro Series Coilovers
MB Wheels Twist 18×7 +50 Offset w/Nitto Motivo 225/40ZR18XL Tires
Future modifications:
Upgraded audio (subwoofer, amp, door speakers, tweeters, headunit)
Custom Paint job (matte finish like the Plasti-Dip give it now)
Image Gallery
Soul Specs
Engine: 1.6L 4 Cylinder M/T
Exterior color: Clear White
Trim Level: Base
Model Year: 2011
Ttire Size: 225/40ZR18XL
Average mpg: 26 MPG
Miles driven so far: Almost 60k
Thanks for sharing your thoughts, Nikki! Enjoy your Kia Soul!