Kia Motors America has issued a special press release featuring information and first details about the all-electric Soul crossover vehicle.
Scheduled to go on sale late next year, the all-electric Soul will be based on the gasoline powered 2014 Soul model, which has just been released in the United States.
The 2014 Kia Soul EV will be the automaker's very-first electric vehicle sold in the United States.
According to latest reports, the electric-powered funky crossover will feature a slightly different styling than its gasoline sibling.
Several minor styling tweaks will not only improve the vehicle's aerodynamics, but also make it uniquely distinguishable from other Souls on the market.
In terms of performance, we do not expect the Soul EV to offer anything revolutionary, though rumor has it the range will be up to 125 miles per charge.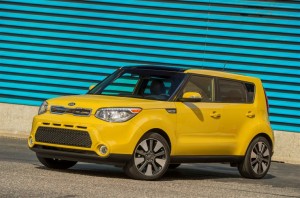 Previous rumors also indicated that the Soul EV specifications will likely stack up on par with other small electric cars, including VW Golf E, Fiat 500e and Ford Focus Eelectric.
This means the all-electric Soul will have a top-speed of around 90 mph, and a 0-62 mph time of around 12 seconds.
Kia said it plans to release more details about the Soul EV (powertrain specs, range, pictures, pricing) at one of the major auto shows in the USA.
The likely suspect, given all-electric Soul EV a vehicle that seems to be made for California, is the L.A. Auto Show which kicks off in November.
Stay tuned!!