Kia has officially announced that it is in the process of working on an all-electric version of the Soul crossover vehicle, which is expected to blow away all competitors in the US.
It was revealed recently that the all-electric Kia Soul will have a range of more than 120 miles!
That puts it well ahead of the Nissan Leaf and new Chevy Spark EV with driving ranges of 75 miles and 82 miles, respectively.
The driving range will put the Soul EV on the same page as the BMW i3, but almost certainly a whole lott cheaper than the $41,350 price tag that vehicle carries.
The gasoline-fueled Soul Base starts at just $15,495, while the electric-powered version is expected to cost around $25,000.
A high range makes an all-electric car that much more appealing, especially when you consider the lack of places to fill up.
While the Soul's 120 mile range still falls short of the 208+ miles offered by the Tesla S, it will be put in perspective when you compare the price to that of the $62,000 Tesla.
There is no pricing or detailed specs yet available for the electric Soul, but what is known is that the car will have a top speed of between 90 and 100 mph, and will go from 0-60 mph in less than 12 seconds.
Aside of segment-leading driving range and specs, the Soul all electric vehicle will offer some cool features.
Those include a regenerative braking technology (applied for the first time in a Kia vehicle), as well as a clever heating and ventilation system.
If there's only one person in the car, the climate control system will only cool or heat the driver's area. The owner of a Soul EV will also be able to control the car's ventilation by using his/her smartphone.
In terms of style, the Soul will retain the original shape of the gas-powered model, however, you can expect to see a few aerodynamic tweaks made outside.
Also exclusive to the zero emission Soul model will be a two-tone mix of a light blue and white exterior color.
Stay tuned for more news about Kia's future electric cars!
Kia Soul Electric Vehicle Spy Shots
Related Kia Soul EV News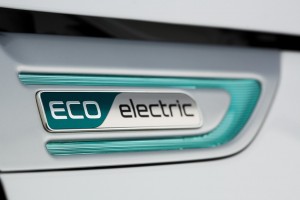 1. We have published a great informative article about the new Soul EV specs and arrival date. You can find plenty of interesting facts about Kia's forthcoming zero emission electric vehicle here.
2. Thanks in large part to the latest spy shots leaked by sources close to Kia, we now know that the 2015 Soul EV will use a Chademo Quick Charge system. What that means is that the car will be fully charged in as little as 30 minutes.