The all-electric Kia Soul EV was released in certain parts of the USA in October, and a few consumers have been lucky enough to get their hands on one.
We imagine you are all wondering what the real-world experience of driving the brand-new electric car is like, which is why we have added a Soul EV owner to our list of Kia owner interviews.
Leo is a systems engineer for NASA who lives in Los Angeles. This is his first Kia car, and the allure of the vehicle was the cost of ownership.
The cost of running the electric version of the Soul crossover comes out at about 3 cents per mile, which is less than one fifth of what he was paying for operating a gasoline powered vehicle.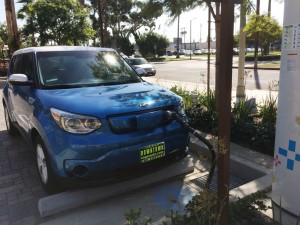 He also loved the look of the vehicle, as well as its great list of standard features and zero emissions performance.
As much as Leo loves the car now, he did admit to having some concerns prior to purchase an electric vehicle.
Range, battery life, and charging infrastructure were among those concerns, but they have all now been washed away.
He admits that people are always surprised when they learn that the car is an electric model, mostly because they think it looks like a regular Soul.
They, like himself, are always impressed when they learn about how quiet and efficient the EV model is. It is those qualities that Leo says will make it hard to ever go back to a gas-powered vehicle.
When shopping for a new electric car, Leo compared the Soul EV to Nissan Leaf.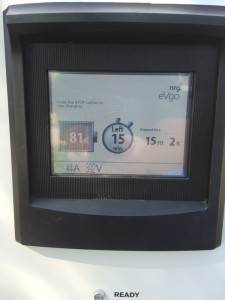 One thing that swayed him away from the Nissan Leaf and into the direction of the Soul EV was the fact that Kia included a quick charger in their car, which is a feature that Nissan charges extra for.
When asked if there was anything he would change about the Soul EV, he said that availability would be all, as it was incredibly difficult to find.
Read on to learn more about his real-life ownership experience.
Kia Soul EV Specs
Exterior color: Caribbean blue with white top
Trim level: Base model
Model year: 2015
Tire size: 16-inch
Miles driven so far: 650 miles! Much more than my normal commute because the car is so much fun to drive!
Average daily driving range: I average 50 miles a week. Not much.
Owner interview
1. Tell us something about your Kia Soul EV ownership experience?
I bought my Kia Soul EV three weeks ago and I love it. It is exactly the kind of car I want – versatile, plenty of leg room (I'm 6 ft. 2 in.), loaded with standard features and best of all, it looks great.
Despite the drop in gas prices, the cost of electricity per mile is still much lower. So far, I'm getting 3 cents per mile. Gas cars are more than three times that!
The fact that it's zero emissions just takes it over the top.
2. Is this your first electric vehicle?
Yes.
3. Did you have any second thoughts purchasing an EV?
Sure, I had the normal concerns: range, battery life, charging infrastructure limitations and risk of new technology. But now that I've had it for three weeks, all of those concerns are gone.
4. What do other people say about your Soul EV?  
Most people can't believe it's an electric car because it looks like a normal Kia Soul.  People think electric cars look funny, but not this one. Of course if you don't like boxy cars, you're not going to like this or the gas powered Soul.
5. What do you like the most about your ride?
How quiet and smooth it is. I can't go back to the noise and vibration, not to mention inefficiency of an internal combustion engine.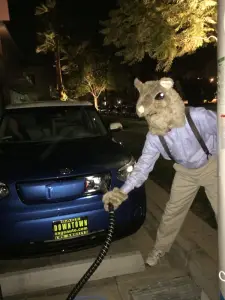 6. In your opinion, what is the main advantage of the Soul EV over its competition?
The biggest advantage is the quick charger that comes in the standard model.  You have pay extra on the Nissan Leaf.
7. If possible, what would you change on the current Soul EV (if anything at all)?
The only thing I would change is that they should have built more of it!  It was hard to find.  But I hear they are slowly shipping them out.