The launch of the Kia Soul EV (electric vehicle) is spreading, as Kia Motors America is now shifting their attention to the Pacific Northwest.
They will be adding 20 new Soul electric car dealer stores, as well as an improved charging network in that area.
There has been a ton of interest in the Kia Soul electric vehicle in both Oregon and Washington State, so it makes sense that Kia would try to expand their electric vehicle dealer network out to that part of the country.
Demand is apparently high among customers looking for a vehicle that is both eco-friendly and stylish.
Fast charging at Kia dealers in Oregon and Washington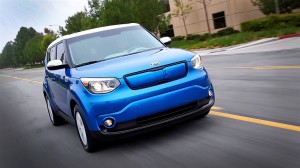 Kia sees this as being a big market for the Soul EV, which is why they want to ensure that potential electric vehicle customers are well looked after.
There will be new fast charging stations installed, with some dealerships offering free charging for all-electric Soul customers.
The 20 new Kia dealers will be split across the two states, with 12 in Washington and 8 in Oregon.
Each of the dealers will have a pair of Level 2 chargers in place, making 40 in the region, and 10 of the dealers will come equipped with DC fast chargers, which will help boost Kia's overall fast-charging network.
A select few of the dealers will offer the added bonus of allowing Soul EV owners the ability to charge up for free.
Washington already has a total of 41 DC fast chargers up and running in the state, which means the 6 new ones will increase availability by 40% in the Seattle metro area, and 15% across the state.
Oregon has an existing network of 81 DC chargers, which means the 4 new additions will increase availability by 15% in and around Portland, and 5% across the state.
The expansion of Kia into the Pacific Northwest region is great news for customers in Washington and Oregon who previously has to travel a great distance in order to get their hands on a Soul EV.
The certified dealerships will be well spread out across the states, and in locations convenient to major population centers.
The addition of chargers to the dealerships will help ease some of the range anxiety that EV consumers often feel. Add in the fact that half of those dealers will have DC fast chargers, and all anxiety is essentially wiped out.
Plugging the Soul EV into a fast charger can get the battery up to 80% in about 33 minutes, which is great news for owners with a busy schedule.
Kia and Greenlots have partnered up in the region, just as they did in California, to help ensure a large network of chargers is made available.
The partnership will allow the new Kia Soul EV owners to get a ChargeUp Card that grants them access to a large charger network. This helps make ownership easy and convenient.