The Soul EV has been making major inroads in Europe, which is why we decided to head to France for the latest in our Kia owner's interview series.
François Evo has had his Soul EV for a little over a week, but already has an opinion on how it compares to the Renault Zoe, which was the previous all-electric car that he owned.
He wants to eventually be gas free, which is why he is making the switch to electric cars.
He already believes that his Soul EV, which is black with a red roof and body accents, is better than the Renault Zoe, but he also plans on adding a Tesla S to his driveway, even though it is a great deal more expensive than the Soul and other EV's on the market.
The beautiful looking Soul will be right at home with this owner, who lives in Lyon, which is close to the Alps and the Mediterranean Sea.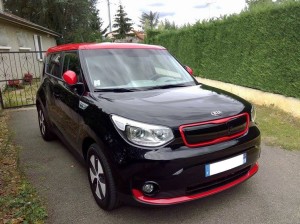 He works for a company that develops engines for planes and rockets, but is very much a man who believes in the power of electric over gas.
He loves the space inside the Soul EV, especially with 3 teenage kids to transport around. His ownership experience has been a short one so far, but he has a lot to say on the subject.
Read on to hear his opinions on the Kia Soul EV.
1. Tell us something about your Kia car ownership experience so far?
I have been a Kia Soul EV owner for one week. This is not so long!
2. Honestly, what was your intention when you bought your Soul EV?
Previously, I owned a Renault Zoé electric car. But in France, when you buy a Zoe, also have to rent the electric car battery.
I took the 5000 kilometers a year contract, and I discovered that EV driving was such a good feeling that I started to drive too much.
In about one year, I drove about 9000 kilometers, therefore my battery rent fee increased way above my initial expectations.
I tried to make a deal and change the contract, but dealing with papers was so complicated that I decided to sell the Renault Zoe EV and to buy another electric car.
3. What do you like the most about your electric Kia car?
The Kia Soul EV is longer and larger than the Renault Zoé. I can now drive as many kilometers as I want without paying the expensive battery rent!
The Soul EV charging is a real advantage, too as I can recharge the car at night, when electricity is cheaper. I also like the looks of the car.
4. What do other people say about your EV car?
My co-workers have seen it and they like it a lot, much more than the Renault Zoé!
5. Did you have any second thoughts purchasing an EV?
Not at all! Actually, my goal is to have two EVs. My wife will use the Kia, and I will soon get a Tesla Model S, so no more gas!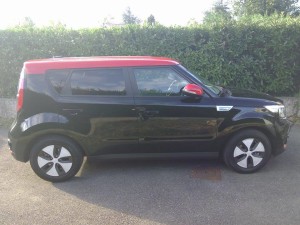 6. In your opinion, what is the main advantage of the Soul EV over its competition?
The Soul EV looks like a regular gas car and the 7-year battery warranty is a real advantage.
7. If possible, what would you change on the current Soul EV (if anything at all)?
The automatic speed control is not that easy to use (it was easier in the Renault Zoé), and the luggage compartment is a bit small, when I buy food for my family once a week.
Kia Soul EV specifications (France):
color: black/red
model year: 2015
tire size: 205/60R16
miles driven so far: 150 miles