For the latest in our Kia owner series, we head north of the border to Quebec City, which is where Caroline and Pierre-Etienne came up with a number of firsts with their Kia Soul electric vehicle.
This Soul EV, which came in a very rare Titanium Gray color, was the first Kia vehicle that the couple have owned.
It also happened to be one of the very first all-electric Kia Souls to be sold in Canada.
On the downside, it also became the first Soul EV to be involved in an accident in Canada, which happened when it was rear-ended by another vehicle.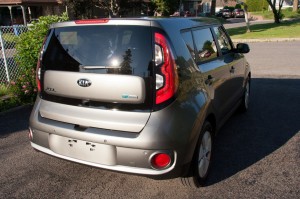 That particular story ended well, as the couple have been given a white-painted Kia Soul EV to use until their ride gets repaired.
Both Caroline and Pierre-Etienne work in industries (computer science and forestry) that made going green with their vehicle a natural choice.
The couple had read the positive reviews on the Soul electric vehicle, and decided that was the vehicle for them.
They plan on starting a family soon, and wanted a vehicle that could grow with them, which is exactly what they got with the Soul EV.
The boxy little all-electric vehicle has very quickly exceeded their expectations, to the point where their other car rarely leaves the driveway.
Read on to learn more about their Soul EV ownership experience.
Kia Soul EV specs (Canada)
Color: Titanium Gray
Trim: Luxury + Sunroof
Model year: 2016
Tire size: 16-inch
Average range per charge: 165km (103mi)
Miles driven so far: 1450km (Titanium) + 1350km (White) = 2800km (1740miles)
1. Tell us something about your Kia car ownership experience so far?
The Soul EV is our first Kia and first electric vehicle as well! We absolutely love it!
Last year, when we heard that the Soul was getting an EV version, we were very excited and read a lot of reviews.
Finally, we added our names on the waiting list in March for a Luxury model (Black or Blue) — we wanted the Luxury package because here in Canada, the CHAdeMO port is not available on the base model.
We finally got the car in July! Yes, we bought it without even trying it!
As a bonus, the dealer received this beautiful Titanium Gray with the panoramic sunroof and in a matter of days it was ours!
We believe our car is probably the first Titanium Gray delivered in the Province of Quebec.
Unfortunately in August we had a rear-end collision and our car is under repair since then.
This is also probably the first major accident with a Soul EV in Canada!
Luckily for us, we can still ride with another Soul EV, a nice white with Electronic Blue roof, thanks to EEKO Logical Car Rental from Montreal!
This is a pure joy to still drive a Kia Soul EV while ours is being repaired!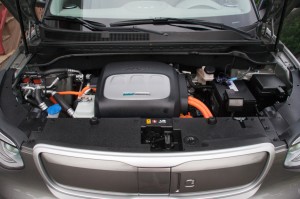 2. Honestly, what was your intention when you bought your Titanium Gray Kia Soul EV?
We are strong believers of EV car technology, and we were looking for a second car big enough for our future family. The Soul EV meets and even exceeds all our expectations!
3. What do you like the most about your all electric car?
We love the spacious interior of the car and also the fact that is has a higher ride height that most other EV cars. We also love the smooth and quiet ride it offers, and of course the fact that is it a zero-emissions vehicle!
4. What do other people say about your ride?
They ask a lot of questions! First, most people don't even know that the Kia Soul have an EV version. Then they usually ask about the range and charge time.
They are all impressed when we describe everything we do with it. Finally, when they try it, they absolutely love it!
5. Did you have any second thoughts purchasing an EV?
Not really, we knew that it would meet most of our needs. In fact, the other car stays most of the time in the driveway now..!
6. In your opinion, what is the main advantage of the Soul EV over its competition?
Unlike other EVs, the Soul EV doesn't scream that is an electric vehicle. It also feels more like a luxury car, it is more spacious and has better range.
7. If possible, what would you change on the current Soul EV (if anything at all)?
Being in Canada, we do not have access to UVO eServices up here. This is a telematics service that would be so useful with an EV (like checking the battery status while the car is plugged on a public charging station)!
If we were Kia Canada, we would really consider offering this service here, the competition has it and everyone is surprised when they hear that the Soul EV doesn't.