The latest in our Kia owner interview series takes us to San Diego, CA. where we spoke to Kelly, a professional photographer who owns a blue Kia Soul.
This is the first Kia that Kelly has owned, but he did own a 2011 Hyundai Elantra before the Soul crossover vehicle, which means he is essentially buying in the same family.
Kelly loves his new Soul, and while he has had to take it in for a couple of minor repairs (glove box door and rearview mirror homelink), both issues were taken care of quickly, with a loaner car supplied each time.
The Soul checked all the boxes for Kelly when looking for a new car. It's a stylish ride that is small, but with plenty of room inside to seat 5 people.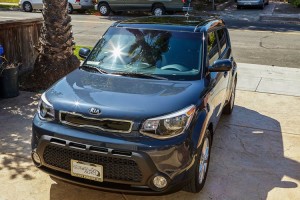 Kelly wanted a car that came with a lot of options, which is why he went with the Plus trim level.
He also added the Audio, Primo, and UVO Services packages to end up with a vehicle that is totally loaded.
Kelly has already gotten a lot of compliments on his ride, and has made a few little changes to make I stand out even more.
He has done some work with the badging, tinted the front windows, put a trailer hitch on back, and added LED lights around the license plate.
He also has plans for some future customization jobs, some of which he has already ordered.
Read on to learn more about the upcoming mods and other future plans that Kelly has for his Kia Soul.
Kia Soul Fathom blue specs
Engine: 2.0L 4.cylinder GDI
Exterior color: Fathom Blue with Black Leather Interior
Trim: Plus
Model year: 2015
Tire size: 215/55/ Kumho on 17″ Kia alloy rims
Average mileage: 22.9 around town
Miles driven so far: 420
Soul Owner Q&A
1.Tell us something about your Kia Soul Fathom Blue ownership experience so far?
I love my new Kia Soul, even though it has been into the shop for repairs twice since I purchased it.
The glove box door was sticking and needed a new part, while the rearview mirror homelink had to be replaced also.
Both items were fixed quickly and the dealership even gave me a loaner car on both occasions. This was good customer service. No other known problems as of yet.
2. How long have you owned your ride?
3 weeks.
3. Honestly, what was your intention when you bought your Kia Soul?
I wanted a car that was stylish, good on gas, and also I wanted something small but yet large enough for 5 people.
4. What do you like the most about the car?
I love all the options, I have the plus model with the Audio Package, the Primo Package, the UVO Services Package.
Other options included Carpeted Floor Mats, Cargo Net, Cargo Tray, Auto Dimming Rear View with Homelink System, Mud Guards, and Wheel Locks. I also like the soft interior features.
5. What do other people say about your car?
"It is so cute, and comfortable" – but mostly I hear the word "cute" or "Stylish"
6. What is it that makes your ride look unique?
First I debadged it, then I rebadged anything I could not remove. I also tinted the front windows to match the privacy glass,and added a trailer hitch. I also added LED lighting on the rear License Plate.
7. What Kia Soul accessories have you installed so far / do you have any future plans?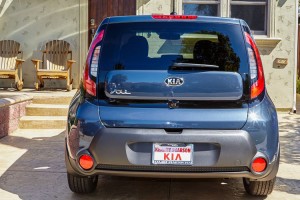 Vinyl installations planned for the future, specifically the front and rear apron in to be gloss black (possibly all black plastic parts).
Also this morning I ordered yellow tinted vinyl for the front fog lamps, and dark tinted vinyl on the rear reflectors (bug eyes- Kia maybe needs to rethink these, maybe as backup lights?).
Other modifications on order are: rear spoiler, door handle catch inserts the say "SOUL", "Punisher" Skull Wheel Center Caps, and "SOUL" Tire Valve Stem Caps.
*If possible I would also like to install the side marker repeater lights on the sides of the front fenders where the "SOUL" emblem currently resides. I think it can be done, but I have not seen it on a 2015 yet.