Check this cool Kia Soul front fog lamp assembly kit.
Whenever you hear automakers talk about the features of their new vehicles, you will have likely noticed that more and more of them are adding lighting into the mix.
LED lights are a common favorite, but vehicles are now getting creative with the front of their cars, adding fog lights into the mix.
If you are the owner of a 2014 / 2015 or a 2016 Kia Soul, you have a vehicle that is ideal for some customization, which includes adding fog lights to the front.
Kia Soul aftermarket fog lights
.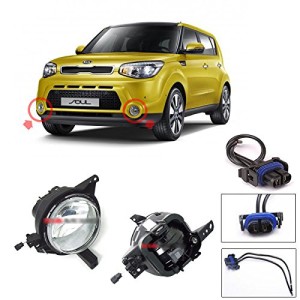 You can get an official Kia OEM set of aftermarket fog lights for your Soul that are affordable and easy to add to your existing set-up.
By affordable, we mean in the $170 range, which is an absolute bargain of you are able to install them on your own.
The lights are manufactured in Korea and are made from a very cool looking plastic and metal combination that will look great on the front of your car.
The fact that they are a genuine Kia product means that you can be sure that the fog lights will be a perfect fit for your Kia Soul (works perfectly on 2014 / 2015 models, too!).
All of the connectors you need for installation are included in the cost, and all you need to do is find the time to add them on to your ride.
Lighting is a great way to make a cool looking vehicle even cooler yet.
The Kia Soul already stands out on the road, but we guarantee that these OEM Kia fog lights will help you make an even bolder statement.