There are plenty of people out there waiting for the day that Kia delivers a vehicle similar to the Track'ster concept car they showcased last year.
There is no sign of that happening any time soon, which means Kia Soul owners are going to have to get a little creative if they want a unique looking vehicle.
That is exactly what Hiram Rosario from Puerto Rico had in mind with the changes he made to his Soul crossover.
The first thing that Hiram did to make his ride stand out from the rest was to go with an orange color that is sure to get noticed on the road. The addition of a black racing strip slicing the length of the car gives it a real sporty vibe.
Cool-looking 20-inch alloy wheels, chrome accessories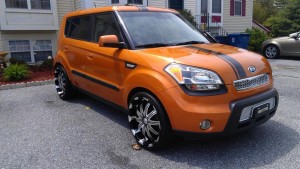 Hiram new that he would have to do a little more in order for the car to be a real attention getter, and he was able to accomplish that with some killer 20-inch Avatar chrome rims that need to be seen to be believed.
The Soul is a great looking car all on its own, but these additions make this particular model a real crowd pleaser.
Hiram purchased his Kia Soul earlier this year and admits that it is a work in progress. Read on to find out what other changes he has made and what future plans he has for his already sporty Soul.
1. Tell us something about your Kia Soul ownership experience?
Its been great. I loved my Kia Soul.
2. What do other people say about your modified Soul crossover?
They love the look. They loved the way the rims make my car looks like. (Little Tonka) lol
3. How long have you owned your car?
I bought my Kia Soul in May 2013.
4. Honestly, what was your intention when you bought the funky Soul?
Well, first we was looking for a 4cyl car with good gas milage. We fall in love with the Kia Soul.
The car looks small, but when people get in it, they dont believe how much space and conftable its is.
5. What do you like the most about your Kia?
The look and the way it performs.
6. What is it that makes your ride look unique?
The color of course, lol. But the Avatar 20″ rims did the trick…lol
7. What aftermarket accessories have you installed so far / do you have any future plans?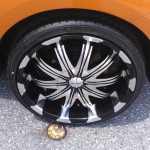 I have done the following things: 20-inch Verde Avatar rims, blue interior led lights, under fender lights kit, chrome front grill, chrome side mirrors, chrome Intake system, chrome side markers, chrome door handle covers, chrome back plate.
Future modifications: For the future I am looking at a nice body kit and I already purchased lowering springs, as well as the angel headlights for my car. It's work in progress.
Kia Soul Ignition Specs & Details
Engine: 2.0L four-cylinder
Color: Ignition Orange
Trim Level: Sport +
Model Year: 2010
Tire size: 20-inch
Average MPG: 27
Miles: 53,000