The latest in our Kia owner's series sees us head north to Canada, where Haralds from Riga, Latvia will be taking up residence for the foreseeable future.
Haralds actually had his first experience with Kia after seeing a Soul crossover vehicle on an earlier visit to Canada.
Upon returning home, he was delighted to find that he could get a Soul there, although he would have to wait 6 months before taking possession.
He ended up settling for a used Soul model with 5000 km on there, and while it wasn't his first choice, he has still been delighted with the ownership experience.
Haralds has owned the boxy little car for a year and a half now, and gets a lot of attention because there have only been 10 Kia Souls sold in Latvia to this point.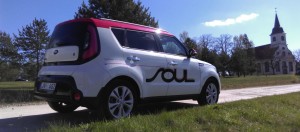 This suits him to a tee, as he wanted a vehicle that was unique and would stand out, which is certainly what he got with his Soul.
There is a lot that he likes about his car, and it's the unique design and seating position that really stand out for him.
Haralds has a lot more to say about his Kia Soul and his ownership experience, so be sure to read on to see what else he shared with us.
Kia Soul – Latvia specs
Engine: 1,6L gasoline, 132 -horsepower, 6-speed automatic transmission
Colour: white / red
Trim: EX (which is base level in Latvia)
Model year – 2015
Tires: 215/55 R17
Kilometers driven so far: 37840 km
Soul owner Q&A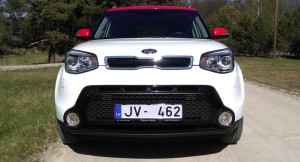 1.Tell us a few words about your Kia Soul ownership experience so far!
Actually, I am very suprised about Kia quality, it is a very well built car. Very good visibility from seating position, smooth ride and handling and easy to get in and out of the car.
2. How long have you owned your Kia Soul?
1,5 years.
3. Honestly, what was your intention when you bought your Soul?
Honestly, after I sold my Volvo, I was looking for something that is unusual in design, and something out of the everyday routine cars such as the BMW, WV, Toyota etc…
4. What do you like the most about your ride?
Design, of course, and seating position.
5. What do other people say about your ride?
Because I left the Soul sign on a car other people are asking, is it my firm name or whats this car is. And then they are suprised, when I tell them it's a Kia.
6. What is it that makes your ride look unique?
Still in Latvia we have less than 10 Souls in all country, I bougt 4th. Also attractive two tone (red-white) colour and stickers.
7. Have you installed any Kia Soul accessories / do you have any future plans?
Hood, front vings, mirrors and inside door handles I stick 3M protection film. My plan for next summer is to get 18-inch alloy wheels.