The all-new Kia Soul is now available at your local dealership, which means eager consumers can now get behind the wheel of the funky urban utility vehicle.
The problem that many people face is finding the down payment required to get into a new Kia Soul car.
One way around that is to go with a Kia Soul lease, which does not require a major down payment, or a pricy monthly payment on top.
Best of all, you can switch out your current leased vehicle for a new Kia model when the lease agreement is up.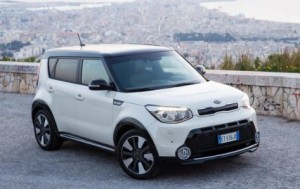 Now may very well be the time to head to a Kia dealer near you in search of a 2020 Soul lease deals, as they will often roll out the deals and discounts when a new vehicle is added to the lineup.
Leasing a Kia Soul or buying
The question then becomes whether or not leasing a Kia Soul instead of buying it actually makes sense for you.
The first question you have to ask yourself is how much you will be using the car.
There is usually a limit of 10,000 to 15,000 miles you can put on the car each year during the lease, so make sure you are going to drive less than that.
Getting a car that would ordinarily be out of your price range is very possible when you decide to lease.
What that means is that you can oftentimes get more car than you expected. You may enter the local Kia showroom with your heart set on the Soul crossover vehicle, only to find out you need something bigger.
While a Sorento midsize SUV or Cadenza near-luxury sedan might be out of your price range to buy, you might just be able to get in one if you go with a lease.
That said, there are a few tips to follow before making that decision.
Take the time to test drive a few different cars, just so you can get an idea of how it feels to be behind the wheel of each.
When you decide, try to negotiate a price first before letting the sales person you plan on leasing.
Just like when buying, the amount you pay each month will depend on how much the final price is, so get that negotiated until you hit a price that fits your budget.
Keep in mind that the more you put down, the lower your monthly payment will be, so help manage your budget by putting down as much as you can afford.