There is a lot to like about the new Kia Soul, according to Todd.
A week ago we interviewed our fellow friend Cynthia, a member of Kiasoulforums dot com, who presented her Soul ownership experiences so far and revealed to us some thoughts on her Lava Kia Soul.
She has been crowned as a May 2009 Soul Of The Month winner, our second round of monthly competition.
With some delay, we are now bringing you the honorable interview with Todd, the Soul owner who became the very first winner of the Soul Of The Month competition.
His black Kia Soul Burner 4U has been picked by forum members as a favourite Soul ride in the month of April 2009.
How and when did you find out about the Kia Soul?

I originally had heard about the Kia Soul when it was a concept via the internet then read somewhere that it was released.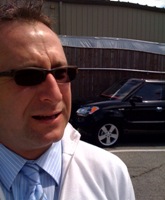 2. How long have you owned your Soul and what are your experiences so far?
I have had my Soul for over a month and a half and absolutely love it. My giant ego loves the fact that people constantly stare at it and point:)
3. If you had to pick one thing what was it that really sold you on the Kia Soul?
Besides the overall looks of the Soul it definitely was the 'complete package' and value.
4. Did you name your Soul?
I haven't but that doesn't mean I wont. Just havent had the opportunity to do so yet.
5. Can you tell us some interesting comments that you have heard about your ride from friends, family and other people?
Besides my wife who pretends not to like it…I think she is jelous as I love my Soul probably too much, everyone I speak with is blown away by the car.
I manage a bank and I have had at least ten clients ask me to take them out to the car for a closer look….too funny.
Black Kia Soul Photos
Continue your read after the jump and find out more about the mods that Todd installed so far and read what he thinks about Kia cars.
Kia Soul Specs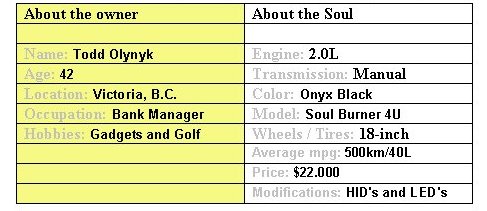 6. What are your plans as far as modifications? Are you interested in that at all?
So far I have replaced the head lights and fog lights with HIDs which look fan frickin tastic and also all internal lights are now LED so when I open the door it is amazingly bright…very cool indeed.
The license plate lights are LED as well. I would love to do the stereo but I am happy with what I have. When the LED rear tail light assembly drops a little I will do that next.
7. Did you change your attitude toward Kia products since you've bought the Soul?
I didn't have much of an opinion on Kia before the Soul. I would say that my lack of experience and knowledge with the product had to do with it.
What I did have was not the best. That lead me to do some serious research before making my final decision. I relied on what seemed like endless praise in all the reviews on the internet.
Yes, long story short…or longer, I am a true convert and love my Kia. Its funny how many more Kia's I notice on the road now that previously passed by unnoticed.
8. Is this your first Kia product? What vehicles have you owned before your Soul?
First Kia. I have owned a Dodge Neon, Volvo C70 convertible, Jeep Liberty and my wife's current Mazda C7.
Thanks for the interview and again congrats for your Soul Of The Month win Todd & have fun with your Soul Burner!