When looking to upgrade or modify your Kia Soul, one of the first places that drivers look is the lighting.
There are all sorts of different lights that can give the car a whole new look in the front or back, but you can now also add a splash of light under your Soul as well.
If you own a Soul, you can now get your hands on LED puddle lamps that will add a really cool look to your vehicle.
The exterior Kia Soul puddle lights illuminate the outside of your ride so that you have a clear view of the entrance at night.
Let's be honest, they also look really cool when you take the car to the road, as well as offering another level of illumination on roads that are not very well lit.
Puddle lights for Kia Soul MY
.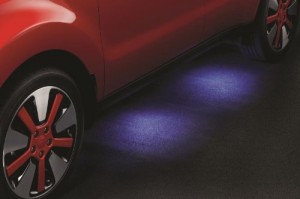 .
The puddle light kit can be yours for less than $xxx if you shop on Amazon.com, which is a fantastic price for an official Kia OEM product.
The puddle lights are designed to fit 2014, 2015, 2016 and 2017 Kia Soul models, and come with detailed installation instructions.
You really don't have to be a mechanic or mod specialist in order to get the lights installed, which means no further investment over and above what you pay for the LED lights.
The Kia Soul is a vehicle that was meant to be modified, and these LED puddle lights for Kia Soul are a great way to start the changes you want to make.