Marissa Cruz from California is the latest in our Kia owner interview series.
She is a full time student whose goal is to work Border Patrol.
Marissa has lived in several different cities, but now makes her home out west with her husband, who is an active member of the military.
Marissa opted for a Kia Soul when she purchased her new car, and it was her first experience with a Kia model.
To say that she is pleased with the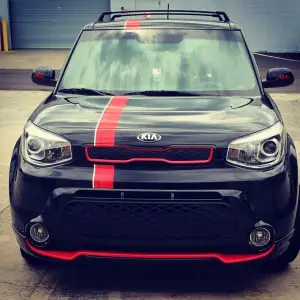 purchase is putting it mildly, as she now plans on being a lifelong Kia customer.
Her goal was to find a comfortable ride that was great on gas, and that is exactly what she got with the Soul Red Zone 2.0 Limited Edition model that she bought a year ago.
While Marissa loves the overall look of her ride, she, like many other Kia Soul owners, has opted to make some changes that make it a little more personalized and unique.
She has tinted the windows, added custom windshield wipers, and is waiting to take delivery of a W, for Wonder Woman, vinyl decal, plus a number of other changes that you can read about in the full interview.
Kia Soul Red Zone 2.0 Limited Edition specs
engine: 2.0L four-cylinder engine that makes 164 horsepower and 151 lb-ft. of torque.
transmission: the four-banger is bolted to a six-speed automatic transmission.
color: red & black
model year: 2015
tire size: 18-inch alloy wheels that come with a truly unique split 5-spoke design
average mileage / charge: I don't know sorry
miles driven so far: 10,125
Soul owner Q&A
1.Tell us something about your Kia Soul ownership experience so far?
I love the smoothness of the drive especially when I have to take long drives it helps save with gas.
2.How long have you owned your ride?
One year
3. Honestly, what was your intention when you bought your Soul?
I was just "looking" when I went to the Kia dealership. I was leaning towards another car but once I seen the 2015 Red Zone 2.0 Limited Edition I just had to have it.
4. What do you like the most about the car?
I don't "like" anything on my car, I LOVE things about my car such as I LOVE my sport racing  pedals, red stitching on the leather wrapped steering wheel. I also LOVE the red trim on my front speakers. I LOVE that my Kia has wifi in the car.
5. What do other people say about your Kia Soul Red Zone?
A few people have told me how much they love it. Today a little kid told his mom he wants a Kia car just like mine.
6. What is it that makes your ride look unique?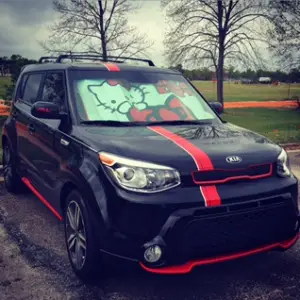 Besides the fact that it's a special limited edition only 2,000 were made. My rear-camera display, and the touch screen for navigation. There is also a killer 350-watt Infinity Audio System that triggers pulsing lights in the front door speakers.
7. What Kia Soul accessories have you installed so far / do you have any future plans?
So far I have added red & white trim racing stripe that goes from the front passenger bumper all the way to rear passenger bumper. I tinted all my windows to 20%.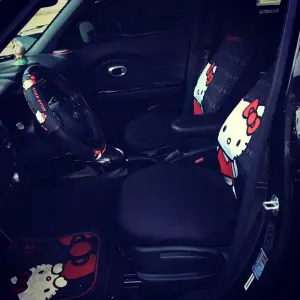 Changed out my stock wind shield wipers to the red Pilot GTR. I added the word Soul on the back of my mirrors.
Lastly changed out the air caps to sliver skulls with red eyes.
My future plans are as followed: I am waiting to receive a red vinyl decal that has the W for Wonder Woman I plan on placing that on my gas tank cover.
Changing out the sliver trim that runs on both sides of my vehicle from the front quarter panel to the rear corner panel to red. And lastly getting red & black rims.