Posted here is a video that showcases how do the Kia Soul LED speaker lights work!
The multicolor LED speaker lights are one of the exclusive features of the second-generation Kia Soul crossover vehicle.
They come available with the exclusive Infinity audio system, which features a center speaker, subwoofer and external amplifier.
The Infinity premium audio system and LED speaker lights are two features of the Kia Soul Audio Package.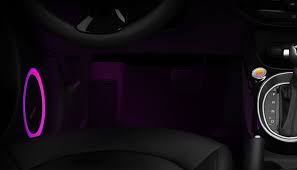 The 2017 Kia Soul Audio Package costs $2,000 and offers several other audio features, including a navigation system with 8 inch display and HD radio, Harman Kardon Audio with center speaker, subwoofer and amplifier. Furthermore, the Kia Soul Audio Package comes with push-button start with Smart key,immobilizer, leatherette meter hood, door center trim inserts, door armrest, piano black accents, satin chrome inside door handles, leather-wrapped steering wheel and gearshift knob and two USB center console chargers.
The Audio Package is available on the 2017 Soul Plus trim.
Video of Kia Soul speaker lights
Generally speaking, the LED speaker lights in Kia Soul change colors and pulsate with the beat. They are fitted to the front doors of the car.
The colors available are the following:
Attached here in this exclusive blog post is the video that shows the lightning speakers in action.
The video you can watch here is of slightly lower quality that you'd expect, but at least you are able to see the Soul LED speakers functioning in real life.
Find more Kia news by visiting our homepage…