A couple of questions & answers about the splash guards for Kia Soul.
People are always impressed when they see the funky Soul crossover vehicle for the first time, which is just one of the many reasons why owners love showing it off.
Kia certainly did a great job of creating an exterior that catches the eye, but it can also catch all kinds of little nicks and dings if you don't take the time to properly protect it.
Much of the potential damage that your Kia car sustains comes from the parts of the body that are close to the road. Your tires can throw up little stones and other debris that can leave their mark.
A great, and relatively inexpensive way to stop that from happening is to install a set of Kia Soul splash guards.
Kia Soul splash guards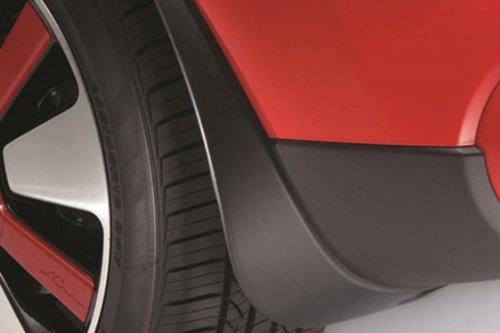 .
.
You can get a great OEM kit that will fit perfectly on your Kia Soul, unless it already has a body kit.
The black color of the splash guards will fit perfectly with any color of the Kia Soul that you have, and will actually look as though they were an original part of the vehicle.
With a set of 4 Kia Soul splash guards coming in roughly at under $70, you really don't have to make a huge financial investment to look after the exterior of your cool-looking ride.
Kia splash guard Q&A
You can find some great deals and low prices on the high-quality Kia splash guards at the Amazon.com online shop.
Click the yellow-blue link above to check the latest consumer reviews on a set of Kia Soul splash guards!
Learn more about mud guards for your Kia Soul
1. How to install the Soul mud guards?
The above-mentioned splash guards are actually very easy to install as they are a perfect fit!
Installing can be done via existing holes and screws inside the fender well. You can even put them up without removing the tire and wheel!
An "L" shaped or angle screwdriver is required, though!
2. Which Soul models do they fit?
The mud guards we are talking about here (check the link left to the picture) are designed to fit the second-generation Kia Soul.

This means you can use them on 2014, 2015, 2016, 2017, 2018 and 2019 model year vehicles!
3. OEM Kia part?
Sure, this is a factory Kia Soul accessory!