The latest in our interview series takes us north of the border to Winnipeg, Canada, where Myron drives a Kia Soul Sport Special Edition model.
He works as an Industrial Radiographer, and goes out kiteboarding whenever he gets the opportunity.
Myron was immediately impressed by the Soul when he first saw it during a car shopping trip, but was not able to test drive one at that time.
It stayed with him, though, and when he saw it on sale for an incredible price, his mind was made up.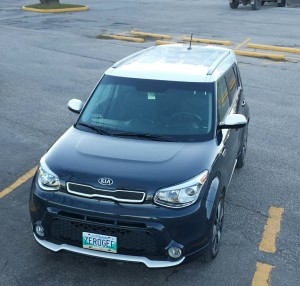 The fact that the car was loaded with features, and had only 13,000 km on the odometer made the decision to buy it.
His plans almost came undone when he saw it being test driven while on the way to view it. As you may have already guessed, that story had a happy ending.
Myron is loving his Soul ownership experience so far, and says that the car has exceeded hos expectation, especially when it comes to the winter mode features, which are a must in Winnipeg.
He is also now active in the Soul owner's community, which was something he didn't even know existed before the purchase.
He is also enjoying the positive comments he is getting from other people asking about his Kia Soul, and he loves how the Blue Pearl exterior color seems to subtly change in different lighting conditions.
Read on to learn more about Myron's ownership experience.
Kia Soul Sport Special Edition specs
Engine: 2.0L GDI 4-cylinder
Transmission: 6-speed automatic
Exterior color: Polar on Fathom Blue Pearl
Interior color: black leather with sport accents
Trim: SX Sport Special Edition
Tire size: 235 / 45R – 18
Average fuel mileage: about 8.5L/100km
Kms driven so far: about 6000km
Kia Soul ownership Q&A
Tell us something about your Kia Soul ownership experience?
This is my first Kia and my experience at the dealer was excellent and looking forward to many years of reliable service.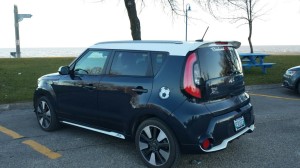 I haven't owned it for very long but so far the SOUL has lived up to all my expectations and some. Right now, I am enjoying this unique, fun to drive ride.
I am very impressed by all its winter mode features as well,  I think are perfectly suited for our extreme Winnipeg winters. WINTER… BRING IT ON!
I also love the enthusiastic SOUL owners community that I did not realize existed.
2. What do other people say about your Soul SX?
Some people are not sure what kind of car it is and want to know all about it.
I have had nothing but complements from others and many from people that said they have never looked at one up close (until now) and never realized what an attractive car it really is.
I have had a few comments from (Soul) Gen1 owners say that they did not really like the new SOUL but thought this Special Edition looked pretty sweet.
This blue pearl paint can look different depending on the quality of the light, the angle of the light and the angle you view it at. So, I had someone say they loved that charcoal colour.
3. How long have you owned your ride?
A little more than 3 months.
4. Honestly, what was your intention when you bought your Kia?
The many awards and positive reviews for the SOUL were definitely deciding factors on my purchase.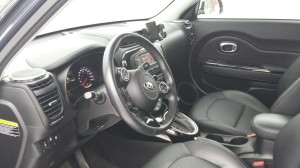 I needed something safe and reliable for work and play that had as good or better gas mileage than my last car.
I was really hunting for something different looking and roomier to replace my ageing car to haul me and my kiteboarding gear around.
5. What do you like the most about your ride?
I think that the Gen2 Soul team responsible for the design / styling of this Special Edition model did a super job and have come up with a very smart and sexy ride while retaining some of its quirky looks.
The design and styling of the interior and selection of materials makes for a quirky, but rich and sporty appearance.
I really like the Smart Key and Start Button. The way that the Power Folding Mirrors greet me (unfold) as I walk up to the car. The first time I saw that put a grin on my face and made me giggle.
6. What is it that makes your ride look unique?
The Soul's quirkiness makes it stand out in traffic. This Sport SE's two tone paint scheme, trim, body kit, spoiler and wheels makes it easy to find in a crowd.
I understand that the Fathom Blue Pearl paint was of limited availability as well.
My Soul was used during the 2014 FIFA WORLDCUP – BRASIL so the gas cap cover is a soccer ball and there is a badge on the hatch.
Personalized my licence plates.
7. What accessories have you installed so far / do you have any future plans?
Mostly practical additions so far since I think they got this Soul so right.
I made my own full size cargo tray since I couldn't find anything better for reasonable price. I added a tray style drivers side floor mat too.
I needed to do something to minimize the sand and moisture from my kite gear from spoiling the interior.
I minus sized (-1) to 215/55R17 Bridgestone Blizzak WS80's winter tires on steel wheels for winter mode.
Found a nice cellphone holder that matches the piano black trim, polished silver trim on the interior and blue piping on the Soul floor mats.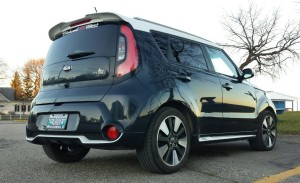 Still waiting for my Vortex splash guards to arrive. The SE body kit doesn't stop enough of the spray from hitting the body. These Vortex flaps should fit with the body kit and look cool while doing their thing.
In the future I may add a plasti dip hood mask to protect the front.
I feel it could use some plasti dip treatment for some trim on the SE wheels and engine cover.
Custom work on the steel winter wheels, maybe plasti dip something on them, or plasti dip white trim on wheel covers, or chrome rings, or disk covers. Not decided yet.
LED foot-well courtesy lights.
Replacing the interior and some of the exterior bulbs with LED's.
A Sub-woofer.
Possibly alloy winter wheels at a later date. Might consider some performance mods after the warranty runs out.