For the latest in our Kia owner interview series, we take a trip north of the border to Bedford, Nova Scotia in Canada.
That is the home of IT professionals Kevin and Sandy Tillman, proud owners of a 2015 Soul SX Lux, which is the top-of-the-range Soul model in Canada.
The Tillman's bought their Solar Yellow 2015 Soul a couple of months back, and it was something of a surprise purchase.
Their previous car was also a Kia Soul, but the Tillman's had never upgraded to a new version of the same vehicle in the past.
What they generally found was that things started to go seriously wrong once the warranty ran out, but they ran into no such issues with the Soul, which was why upgrading became something of a no-brainer.
Kevin's Old Soul vs. New Soul
Note: the yellow-painted Soul above sits on winter tires, wrapping the black steel alloys. Originally, it comes fitted with stylish 18-inch alloys!
The decision to go with the 2015 Kia Soul again became all the easier to make when they saw the upgrades over the outgoing model.
Those upgrades included such features as leather interior, panoramic sunroof, and a very large backup screen.
The Tillman's felt that the 2015 Soul compact car was as impressive inside as it was on the exterior, although some folks may balk at the bright yellow color.
The Tillman's made a number of changes to their 2011 model, but have yet to do anything major to their new ride.
That will change when spring rolls around, and they are able to get rid of the winter rims in favor of some cool looking 18-inch alloy wheels.
Read on to learn more about the Tillman's ownership experience.
2015 Kia Soul SX Lux (Canada Specs)
Engine: 2.0L GDI
Color: Solar Yellow
Trim: SX  Lux
Model year: 2015
Tire size: 18
Average mpg: 7 L/100 kms on highway, about 8.5L/100 kms in city
miles driven so far: 3500 kms
Soul Owner Q&A
1.Tell us something about your Kia Soul ownership experience so far?
The 2015 Soul is my second Soul. The first one was a 2011 Soul and I had zero issues.
Upgrading to a new version is unprecedented with me. I've never bought the same model or manufacturer of car a second time.
Normally near end of warranty,  a series of things go wrong with the vehicle that causes me to say "never again"
2.How long have you owned your ride?
2015 Soul for 2 months
3. Honestly, what was your intention when you bought your Kia Soul?
Basically to get the same reliability as the 2011 Soul, but with upgraded features such as the panoramic sunroof, leather interior, navigation system, huge backup screen.
Originally for the 2011; was the feeling that you were sitting up higher than a car, plus its good online reviews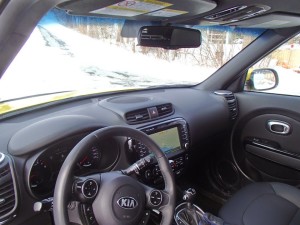 4. What do you like the most about the 2015 Soul?
A long list of goodies packed into a nice vehicle.
5. What do other people say about your ride?
Sharp looking and the inside is very impressive
6. What is it that makes your Soul crossover vehicle look unique?
Solar Yellow exterior color. Not too many around! I guess you either like it or not.
7. What Kia Soul accessories have you installed so far / do you have any future plans?
No plans for the 2015.
On the 2011 Kia Soul I previously owned, I had SSD Rails for our kayaks.
Also have a SUV tent which is really great with the Soul.
Put the back seats down and lower the front seats to become abit of a head rest,  add a flat cushion; and it's a great place to sleep.
Going to be extra fun next summer sleeping under the stars (with the panoramic roof).
Editor's note: Thanks for sharing your experience with us Kia fans! Enjoy your Kia Soul!