What better way to show that you are a proud owner of a Kia Soul than sporting a super cool t-shirt?
Let's face it, this is one of the most popular cars on the markt today, thanks in large part to its very unique sense of style.
There are no other cars on the road that look like the funky Soul crossover, and those that did have now long been discontinued due to the amazing success of this funky little "hamster ride".
A T-shirt with the Soul logo lets people know that you are proud of the car that you drive, and that you have your own unique sense of style.
Kia Soul image on a t-shirt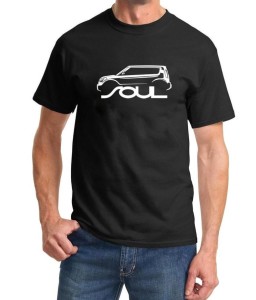 .
The Soul is a car that was made with accessorization in mind, as there are countless additions you can make to the vehicle to make it truly one of a kind.
If you have added a number of Soul accessories during your ownership experience, then why not treat yourself to a Kia Soul tee that is both affordable and comfortable to wear.
There are a number of things to love about this t-shirt, all of which we will explain below.
T-SHIRT "features"
12 color options – One of the best elements of the Kia Soul is thewide variety of colors that it is avaiilable in. The same can be said for this quality Kia t-shirt, as it comes in 12 different colors, each of which can be used to match the exterior color of the car you own. Red, yellows, greens, and blues are what you will find here, so either choose to make a match, or maybe go with a little color clash to mix things up.
Multiple sizes – Is there anything more frustrating that not being able to get the shirt that you really want in your size? That is not a problem you will have here, as this cool Soul t-shirt comes in sizes that run the gamut from small to XXX-large. There is a size option available for everyone here, so no reason to miss out.
Exceptional quality – The Soul T-shirts are made from heavyweight 100% preshrunk cotton, which means you are getting a garment that is both durable and comfortable to wear.
Cool logo – The logo that features on the front of the Kia Soul tshirt is as unique as the car itself. It features a silhoutted profile of the Soul crossover vehicle, and has the word 'Soul' right below, with the style of the wording the same as the branding on the car.
Affordable pricing – It only costs about $20 (prices change!) to get into one of these great looking T-shirts, but expect to pay a little more for the larger sizes. That's a real bargain that will allow you to but a couple of different colors.
Should you buy this tee?
The funky Kia compact crossover has been a real sales success for the Koreans, and it is without a doubt the most recognizable vehicle on the road today.
People who drive the the new Kia Soul tend to fall in love with their vehicle pretty quickly, and what better way to show that love than wearing a Soul tee that bears its name.