We once again head north of the border, this time to Toronto, Ontario, for the latest in our Kia owners interview series.
We spoke to Nick, an Acoustic Engineer and big fan of both LEGO and electric vehicles.
He already owns a Tesla S, and wanted to add the Soul EV into the mix so that he and his family could potentially go gas free.
It was Nick's experience with the Tesla that made him aware that he wanted to escape the fuel pump for good.
The quality and range offered by the Soul EV was what initially drew him to the vehicle, but he also liked the affordability of the Soul, especially when factoring in the rebate that is available in Ontario.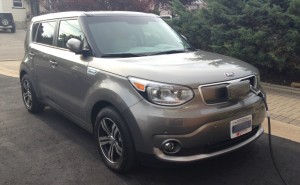 Bypassing the gas stations is just one feature that Nick loves about EV driving.
As far as the Soul EV is concerned, he is particularly taken with how quiet it is, and also likes the heated seats and steering wheel, both of which come in very handy during the cold Canadian winter months.
Nick loves the Soul EV so much, he really had a difficult time barrowing down what he particularly likes. When pressed for a top 3, Nick went with the range, interior space, and amazing options available with the luxury package.
Please continue reading to learn more about Nick and his ownership experience with the all-electric Soul EV.
Kia Soul EV specs
Color: Titanium gray
Trim: Soul EV Luxury w/ Sunroof
Model year: 2016
Tire size: 16-inch rims
Average range per charge: ~130 km (80% charge), ~160 km (100% charge)
Miles driven so far: 2500+ km
Soul EV owner Q&A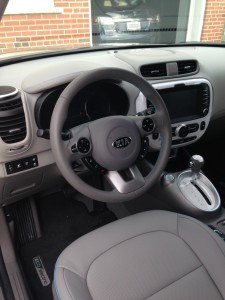 1. Tell us something about your Kia Soul EV ownership experience so far?
The Soul EV has been great. The ride is incredibly smooth, quiet, and fun to drive.
I love the look of the new body style, and they've added a ton of great features and options with the luxury package. It's great to get all of this while knowing you're driving green!
2. Honestly, what was your intention when you bought your 2016 Soul EV?
We are lucky enough to own a Tesla Model S, and after having an amazing experience with that car, we knew we wanted to start replacing all of our gas vehicles with EVs.
The Soul EV offered a ton of great features, the highest available range (next to a Tesla), all for a pretty fair price (especially when you consider the rebate here in Ontario).
3. What do you like the most about your Soul all electric car?
I love the way EVs drive, between the responsiveness of the electric motor, the one-pedal driving from regen, and how quiet they are.
I also quite like that is has A/C cooled seats, heated seats, and a heated steering wheel (which I will certainly appreciate come winter). Plus, no more gas stations!
4. What do other people say about your 2016 Kia Soul EV?
People are generally pretty impressed with our 2016 Soul EV.  It has a lot of features you might not expect, like the cooled seats and impressive entertainment/navigation system.
Another thing people like that I hadn't expected was how much seating room there is.  I've had several friends who are well over 6' in the car, and they always like how much space they have.
5. Did you have any second thoughts purchasing an EV?
Absolutely not, after our experience with the Tesla we knew what to expect from an EV, and the Soul EV checks off most of the same boxes the Tesla does in terms of benefits and features you'd expect from an EV.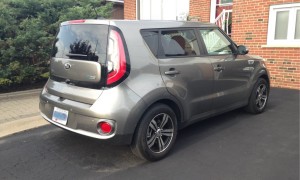 6. In your opinion, what is the main advantage of the Soul EV over its competition?
I'd say the top three are range, interior space, and the awesome options included with the luxury package.
7. If possible, what would you change on the current Soul EV (if anything at all)?
Unfortunately in Canada we don't have access to UVO eServices, including the app.
I'd also love to have the ability to check the charging status, set charging times, and cool/warm up the car all from my phone.
Not a huge fan of the manually adjusted seats either (our 2004 Toyota Sienna has electronic seat adjustment).