Cool car transformer toy for kids with the looks of Kia Soul.
One of the most successful movie franchises in recent years is the Transformer flicks, and itis easy to understand why.
The cool cars and giant robots appeal to kids and adults alike, which also explains why the toys that accompany the movie series are so popular.
Kia Soul "transformer toy"
What do you do if your kid wants a Kia Soul that transforms into a giant car transformer robot? The answer is to head to Amazon to see what's on offer there.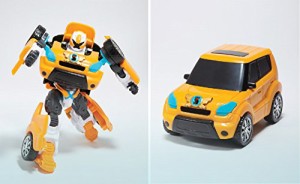 *** Pricing & real consumer reviews @ Amazon.com (click here)
While not an official Transformers toy, you can get your hands on the Kia Soul Robot Toy Action Figure which is seen in the Korean animated TV show called TOBOT.
This is a quality built toy that is suitable for kids aged 3 and up.
It is easy to transform the Kia Soul into a giant robot, and just as easy to get it back from action figure to car. Even the smallest of kids will have no problem figuring out how to get the whole thing to work. The toy is fun to play with in both variations.
The Kia Soul looks like it's ready for action, with a fully-loaded roof rack and big chunky wheels that can easily handle outdoor fun. In robot form, the toy is also a ton of fun, and helps kids bring their imagination to life.
The Tobot Kia Soul transformer toy is truly unique, and is something that you don't often get to see outside of South Korea, making it a great collector's items for those in other parts of the world.