For the latest in our series of interviews with Kia owners, we head to Reno, Nevada to talk to an engaged couple who recently invested in a new 2014 Kia Soul Base.
Justin and his fiancé love to take road trips to Lake Tahoe, as well as semi-annual trips to IKEA for a little bit of shopping.
The Soul was the car that best fits their needs for both of their pastimes, but they didn't rule out others during their research.
After getting engaged, the couple were on the lookout for a new car that could fit their needs and replace their 95 Dodge Neon, which had seen better days.
The looked at several different cars during their research period, including the Hyundai Accent, Chevy Spark, and the Honda CR-Z, but it was the 2014 Kia Soul which impressed the most.
At the end of the day, the price, reliability, styling, and cost of operation of the Soul were what vaulted it to the top of their must have list.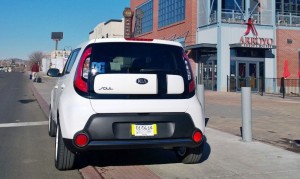 They may only have owned the car for a month, but they have already seen it become a major talking point when they are out and about.
Other Kia Soul owners are quick to come up and introduce themselves, while other car owners comment on the cool design.
The couple have even found that those people that aren't overly impressed with the boxy style of the Soul still end up being more than impressed by the comfortable interior and how well it rides and handles.
The couple plan on putting their new car to the test when the weather changes in spring and they can head out on some fun road trips.
Interesting details about their 2014 Kia Soul ownership.
1. Tell us something about your Kia car ownership experience?
So far it's been one of the easiest car purchase experiences we have had.
We began looking for a new car after getting engaged since our second car was literally falling apart at the seams (1995 Dodge Neon Sport). I would say that we seriously considered roughly a half dozen cars before narrowing it down to the Soul.
Everything from the Accent to the iQ, Spark, and even the Honda CR-Z. We wanted something fun, stylish, and compact, not to mention affordable to purchase, operate, and maintain.
In the end the 2014 Kia Soul was simply the most well-rounded vehicle in this price class.
The relatively compact size makes it easy to park, while the boxy shape makes it roomy enough to haul 4 adults with ease.
The styling also appealed to both of us.
The only disappointments we have relate to how Kia has decided to package the vehicle with the manual transmission here in the states.
We both wanted a manual and were fine with the smaller engine, but wonder why it was essential for Kia to eliminate cruise control, keyless entry, center armrests, and alloy wheels just because you want a manual.
We would have gladly paid for most of these items from the factory, and on a 2014 model year vehicle most buyers are going to want these things.
Kia Soul Base Photos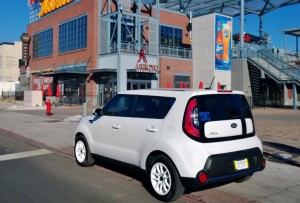 2. What do others say about your car?
They usually say how they want a Soul too, or comment on how unique it is.
The Soul's design has always been a love it or hate it affair, but even those who aren't a fan of the lines of the car have come away rather impressed by how roomy and comfortable it is.
And even more impressed by just how Kia vehicles have become.
The guy at the window tint shop didn't want to give me the car back he liked it so much!
3. How long have you owned your new 2014 Kia Soul Base?
Going on 1 month now and loving every minute. We are really looking forward to taking it on some road trips once Spring comes.
4. Honestly, what was your intention when you bought your Kia?
To find a stylish compact car with a great warranty at a great price, simple as that. Saving for a wedding doesn't leave a ton of free money at this point in our lives.
The Soul has surpassed our expectations of just how good a new $16k car can be. Scion should be VERY worried because the Soul is really cannibalizing their market share.
5. What do you like the most about your 2014 Soul?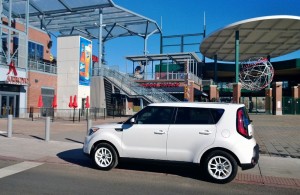 Narrowing it down to one thing is difficult, but I would say styling. It's contemporary and fun without being too cutesy.
Being white, it also makes for a great blank canvas for mods/customizations.
6. What is it that makes your Soul Base look unique?
Probably the wheels (Drag DR-31). In person I would say they make the biggest single impact of the mods we have done this far.
The stock steel wheels with hubcaps really kill the look of the car, in my opinion. In general though, I think Kia dropped the ball a bit on the wheel designs on the 2014.
It's one of my very few complaints with the car, but one that is easily remedied.
7. Have you installed any Kia Soul accessories already? Do you have any future plans?
Current Modifications

Viper Keyless Entry System
Offset Racing Stripes in Gloss Black
16" Drag DR-31 Alloys in Gloss White
30% Window Tint on Front Windows
Blue Accent Trim on Bumpers
Blue Valve Stem Caps
Stainless Steel Fog Light Placeholders
Black Plasti Dipped Gas Door Cover w/ Blue "Soul" vinyl overlay (not pictured)
Future Modification plans:
Blue Brake Calipers (Dupli-Color Kit)
Custom Floor Mats (Black with Blue Border)
Leather Wrapped Steering Wheel
A few more Stickers/Vinyl Graphics – nothing too crazy
OEM HID/LED Headlights & Taillights Retrofit
OEM Center Armrest
Cruise Control Module
2014 Kia Soul Base Specs
Model year: 2014
Color: Clear White/Black
Trim: Base with 6-speed manual transmission
Engine: 1.6 liter
Tire size: 205/60/16
Average mpg: About 28 (mixed driving)
Miles driven so far: 1080