You usually need a flashy sports car to make other vehicle owners jealous, yet the latest member of our Kia interview series managed to pull off that feat with his white (first in this series) Soul EV.
We should note that the jealous parties were owners of the Nissan Leaf, another electric car that doesn't quite measure up to what the 2016 Kia Soul EV delivers.
Our owner this time out is Robert Olson, a former Californian who now lives in Portland, Oregon.
This is not Robert's first experience with an electric vehicle, which isn't really surprising given where he has lived, but it is the first time he has been able to essentially hold one over other EV owners.
The reactions he received came at a ChaDeMo charging station when he was "filling up" his Soul electric car.
Robert had no second thoughts about purchasing an all-electric Soul model, as he had given the vehicle a test drive on a number of different occasions, usually at press events.
He was immediately impressed by the look of the vehicle, and is especially taken by the quality build of the Kia Soul.
He has driven other "test" vehicles in the past, and has found them to be lacking in one way or another.
Read on to hear more about Robert and his Kia Soul EV ownership experience.
2016 Kia Soul electric car specs
Soul EV color: white
Trim: EV Plus (leather, sensors, etc)
Model year: 2016
Tire size: 16 stock (I am looking at replacing with Kosei K1 TS 17×7 rims and Continental Purecontact 215/55/R17 tires)
Average driving range / charge:  my first full charge distance to about 5%SOC was 105 miles mixed driving, but it was my first and only charge so far.
miles driven so far: 149+miles
Home charging: Right around 4 hours using 240V/50A 10kw capable modified Tesla UMC cable "JESLA" provided by quickchargepower.com, the most powerful, portable EVSE out there!
Solar: 7kw Solar array provides nearly 100% of daily motive household energy needs with excess provided by Portland General Electric "guaranteed" wind power generation.
Owner Q&A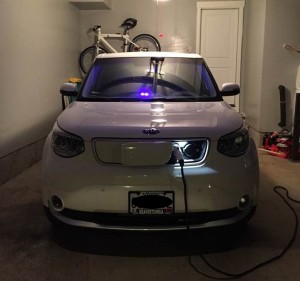 1. Tell us something about your 2016 Kia Soul EV ownership experience so far?
So far the Soul has been rock solid, I've had a chance to completely deplete the battery and use a ChaDeMo station to recharge. The car is quiet, well styled, and in general fun to drive.
2. Is this your first electric vehicle?
Not by a longshot! I learned to drive on an EV1 that my parents had leased back in the late 90s which was taken away to the crusher. Since then I've contemplated getting one of my own.
My first was a BMW ActiveE which unfortunately I totaled before the end of the closed end 2 year lease.
The second is a Honda Fit EV which I picked up the day they changed the lease plan on it to unlimited mileage, free EVSE, insurance, etc.  the EV best car deal of the decade. I still have this car and plan to keep it as long as possible.
The third was a Toyota Rav4 EV which I was able to replace the BMW with, the car was a great meshing of Tesla and Toyota technology except for Toyota's stance on EV's in general has soured and I've moved out of California.
Trying unsuccessfully to get local Toyota dealerships to service the car, I decided to trade it in for the new white-painted Soul EV which is happily taken care of at my local Kia dealer.
3. Did you have any second thoughts purchasing a Kia Soul EV?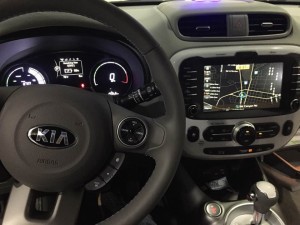 No! I've driven the Soul EV many times at several press events since 2014 when the first model runs were out. I've always found it a fascinating car.
4. What do other people say about your 2016 Soul electric car?
So far I've gotten nothing but thumbs up on it! LEAF drivers at the local ChaDeMo oasis were pretty jealous though 😉
5. What do you like the most about your ride?
I like the quirkiness and cool factor of the Soul, it has an amazing build quality that shows Kia actually spent the time to think through the engineering process.
Having had many "compliance" or "test" vehicles in the past, you can see where they cut corners to shoehorn something into a spot it wasn't supposed to go, and its very noticeable. I've not seen that with this car!
6. In your opinion, what is the main advantage of the Soul EV over its competition?
The price point, charging capabilities, and the range for sure.
Granted the Rav4EV I traded for this electric car has a slightly higher overall range at about 150 miles per charge, it took on avg. 8 hours on a public evse to replenish the battery, this made travel difficult in many situations.
The all electric Soul gives me most of that range, the payment is half as much, and it can recharge quickly, and this trumps everything else!
I've considered the 2016 30kwh Leaf, Chevy Spark EV, and BMW i3 BEV but none could come in at the same price point for the appointments offered. The Soul EV is simply a better VALUE!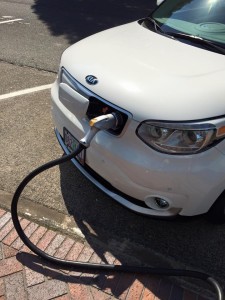 7. What would you change on the current Kia Soul EV (if anything at all)?
The stock wheels are hideous, I am changing them asap to the ones listed in my spec sheet. It would have been nice if Kia allowed for some ability to have it changed to other options available on the gas model. Easily changed however.
The car would also be more fun if they put in a slightly more powerful motor, about 100kw and had a user selectable mode like the Honda Fit EV does.
Eco mode would be limited to 50kw output, "normal" mode could be 80kw where it is now, and "range be damned" sport mode would be a 100kw output.