We recently spoke about the 4 major Kia premieres currently displayed at the Frankfurt Motor Show.
As promised here is a little more details on the 2017 Kia Sportage GT Line crossover vehicle, which was one of the four.
New Kia Sportage GT-Line
The fully-redesigned 2017 Kia Sportage crossover vehicle is entering its 4th generation, and the rugged look of old has given way to an upscale style that oozes sophistication.
This version of the Sportage is all-new, and it builds heavily on the success of the outgoing model.
The new exterior design is certainly eye-catching, and the vehicles comes with upgrades in quality and technology.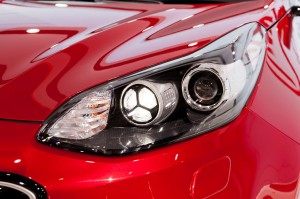 Inside the Sportage GT Line
The interior has a modern new look, and is made from higher quality materials. It also features new technology, and a number of features that are designed to improve comfort, connectivity, and safety.
Dimensions increase for more space
There is also more space to be found inside the 2017 Sportage. The wheelbase is 30mm longer at 2,670mm. The overall length is up 40mm to 4,480mm.
The new dimensions means more space for passengers, with headroom extended 5mm to 997mm for front passengers, while those in the rear get an extra 16mm to 993mm.
Legroom is also expanded to 1,129 mm and 970mm in the front and rear, respectively. Cargo capacity also gets a boost, going from 465 liters to 503 liters.
New engines, transmissions
The Sportage will feature an updated range of engines and transmissions, all of which will deliver improved ride, handling, and performance.
A pair of petrol engines will be offered: a 1.6-liter that delivers 130hp, and a 1.6-liter turbo mated to a 7-speed DCT transmission that cranks out 175hp. Three diesels are also on offer: a1.7-liter CRDi, and a 2.0-liter R-diesel that comes in two different outputs.
Sportage GT Line
Kia Sportage customers will have access to the GT-line trim level for the very first time!
The hot-looking Sportage GT Line is aimed at those who like things a little on the sportier side. You get all the same versatility of the standard vehicle, but also a more dynamic look and ride.
On-sale date in Europe
The new model is set to hit European Kia showrooms in Q1 2016. The official pricing details have yet to be announced.