The first generation Sportage SUV with unique exterior color & chrome accessories.
In most cases, people purchase a car out of necessity, changing it out every few years.
That is not the case with Joseph from North Carolina, as he has stuck by his first generation Kia Sportage, which now has 210,000 miles on it.
Joseph now thinks of his ride as part of the family, going as far as to give his Sportage a name, which is "Mia the Kia."
Rather than standing pat with Mia, though, Joseph has made some changes that help keep his old car looking young and stylish.
Joseph's sister bought a Kia Forte because of his experience with Mia, leading him to believe that it might be time to upgrade to a new model. He found it tough to make that chnage, though, choosing instead to change the exterior color from gray to the "Mustang" deep metallic blue, as well as adding chrome alloys and a wider tire set-up to give his SUV a more rugged look.
That makeover has delivered some real attention for Mia, who now sports company decals and is asked to make company appearances. To learn more about Joseph and Mia, please read our full interview below.
Kia Sportage owner interview (Q&A)
1. Tell us something about your Kia car ownership experience.
My Kia Sportage has been a good reliable vehicle with only minor issues. It has amazed me on how much it can haul, and still runs great at 200,000 miles.
2. How long have you owned your ride?
I bought my Kia new in 1999 at Ray Carter Kia in Jacksonville Florida. Been great for all 19 years.

3. Honestly, what was your intention when you bought your Sportage SUV?
I bought it for work. Honestly at the time it was the cheapest new SUV on the market. I was an outside sales rep, and needed cheap reliable transportation. I really thought it would be a temporary member of my car family.
4. What do you like the most about your Sportage?
It's reliable, comfortable, and super adaptable. Over the years friends have borrowed it, and were amazed at how really comfortable it is. When I purchased my Sportage I had planned for it to be a temporary vehicle. I never thought I would still have it almost 20 years later. It has become part of the family.
My Kia has done over 200,000 miles. It has run the tail of the Dragon in Tennessee. I go every year in my 3000GT and one year it couldn't make it, but my Sportage was up for the trip. It has gotten me through snow storms up north, and hurricanes down south. I just love the little thing.
5. What do other people say about your SUV?
Many can't believe I still own it. Also, sometimes I get that it is so "ugly" it's cute. They named it Mia the Kia. I honestly believe if I was to ever sell it, my family and friends would be angry.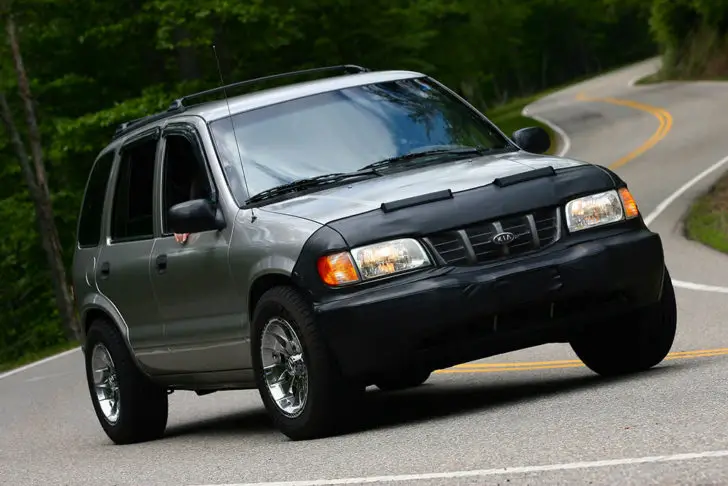 6. What is it that makes your ride look unique?
2 years ago I was looking at possibly replacing my Kia for something new. Because the paint was starting to look rough. But I just couldn't bring myself to part with "Mia". So I decided to do a full make over.
I did a complete color change to the "2015 Mustang" deep impact metallic blue and um… a unique wheel selection. Heh also have it decaled up to represent the company I work for. I do get asked to bring it to company functions.
7. What accessories have you installed so far / do you have any future plans?
custom deep impact metallic blue paint
15×9 chrome Smoothie wheels w/ raised white letter tires
chrome exhaust tip & chrome door handles
stainless steel Nerf bars
custom wood grain dash kit
upgraded speakers, and a good old school Bazooka tube in the back
front and rear camera installation.
I also just picked up a Reese hitch for it. At some point when I get a new daily driver we are going to turbo it for giggles.
| | |
| --- | --- |
| Specifications | |
| | |
| Engine | 2.0L I-4 FE3 |
| Color | deep impact metallic blue |
| Trim level | Base |
| Model year | 1999 |
| Tire size | 245/60/15 |
| Miles driven so far | 210,000 |